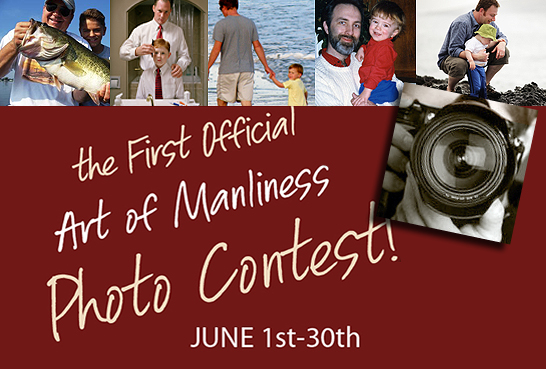 As if you didn't have enough reasons to hang out in the Art of Manliness Community already, one of the best Groups in the Community, the PhotoGroup, has launched AoM's very first photo contest. The huhman, the Community's elder statesman and everyone's all-around favorite Community member, generously set up the whole thing. Here are the details:
CONTEST IS OPEN FOR SUBMISSIONS THE ENTIRE MONTH OF JUNE 2009

HOW TO ENTER: Enter a photo by joining the PhotoGroup, and attaching a photo to your response in this discussion, not a new discussion.
CONTEST RULES
1 . Entry photos must somehow be related to "fathers." (See below for a more thorough explanation of this contest theme.*)
2 . 1 photo per person. Contest is open to all AoM Community members.
3 . Post-processing or photo editing is allowed. Please keep it to a minimum.
4 . Photos must have been taken by the person who submits it. Please do not submit work that isn't yours. To do so just wouldn't be manly.
Members are asked to give their opinions about entries. The entries will then be narrowed down to three. This will take place during the first few days after contest ends (6-30-09). The three finalists will be voted on, in a new discussion; and the winner will be determined at the conclusion of the final vote.
Winner's name will be announced in the AoM Community, as well as on the AoM main site. Grand Prize is a very cool shirt from one of AoM's best friends, Hawaiiabera. See below… even Brett can look cool in one of these awesome "Friday Night" shirts, from Hawaiiabera (Just having a little fun at your expense Brett, thanks to PhotoShop)


* What is the theme of this photo contest?
In the U.S., and many other countries, June 21, is the day set aside to honor fathers. In keeping with that, we've themed our first AoM photo contest around Fathers. (A manly idea, for sure!). Photos can be of your father, your grandfather, you (as a father), or even a snapshot of some random guy doing something in a fatherly way. The possibilities are endless. The point is, this web site is dedicated to the art of manliness; and June is the month set aside to honor fathers. What better time and way than now to do just that! Please caption your entries, and feel free to tell us as much as you'd like to help "capture the moment". If all goes well, the entries should spark a lot of conversation; and that is exactly what AoM is all about!