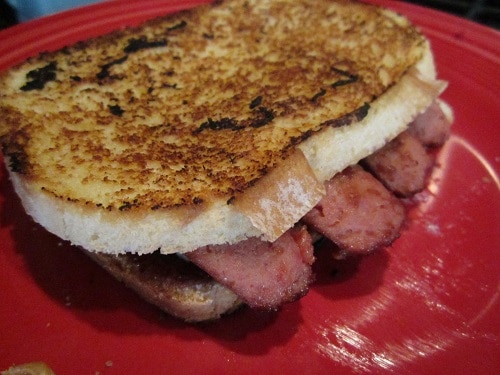 Welcome to Day #14 of the AoM sandwich project. Last month we asked readers for their best sandwich recommendations. Out of 483 submissions, we picked 20 to highlight here on the site each weekday during the month of April. At the end, we'll publish all the entries into an epic man-sandwich cookbook. Enjoy.

Today's Sandwich: The PB&J Hot Dog by Scott
We got A LOT of submissions for PB&J variations. I honestly can't tell you why, but this one caught my attention — I suppose because it seemed a little more "out there" than the other submissions. But at the same time, peanut butter and jelly are both fairly common ingredients at fun burger places, so I figured why not try it with a different variant of meat: the hot dog. I modified the recipe just a little, as to combine a couple different ideas from readers, but Scott deserves all the credit here for the idea. Let's see how it holds up.
Ingredients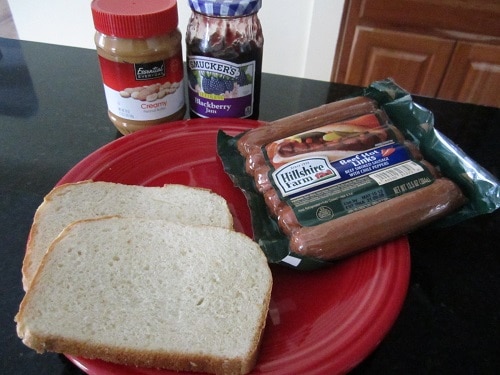 2 slices sandwich bread
2 hot dogs
Peanut butter (I prefer creamy)
Jam (I went with blackberry)
Butter
Step 1: Cut Hot Dogs Lengthwise and Fry
Step 2: Apply Peanut Butter and Jam to Bread
Step 3: Grill
Final Product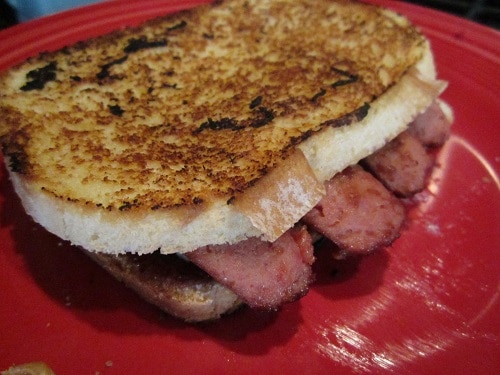 Taster's Notes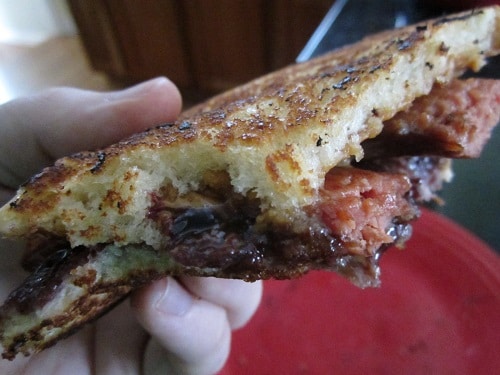 This was quite an interesting sandwich. Logistically, it was super messy. Grilling up peanut butter and jelly makes it all gooey and sloppy. I wasn't in love with the hot dog, but it definitely wasn't bad. This would be a good sandwich if you're doing yardwork on a weekend and want something quick and easy, but a little heartier than just PB&J. It seemed like more prep than it really was — probably 10 minutes total, if that. It also has ingredients that any good man would regularly have in his house: peanut butter, jam, and hot dogs. It's like two great American traditions rolled into one sandwich.