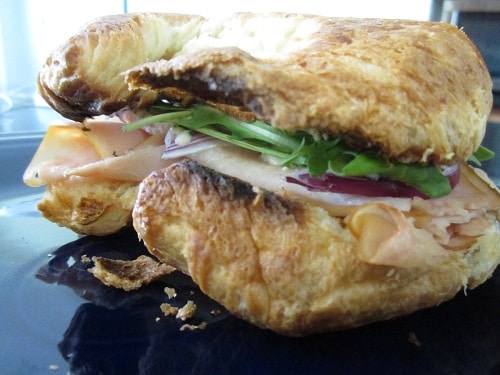 Welcome to Day #9 of the AoM sandwich project. Last month we asked readers for their best sandwich recommendations. Out of 483 submissions, we picked 20 to highlight here on the site each weekday during the month of April. At the end, we'll publish all the entries into an epic man-sandwich cookbook. Enjoy.
Today's Sandwich: The Broiled Masters Sandwich by Victor

I have to start out by saying that I actually named this sandwich. Victor didn't submit a name for it, but I couldn't help thinking while I was eating it that this would be a great sandwich to consume down at the Masters Tournament in Georgia. The most fabled golf tournament in America starts today, and I know this isn't the official pimento cheese served at Augusta National, but it's just as fitting. I picked this as more of a classic sandwich choice in that it's bread, deli meat, cheese, and veggies. It has a few upgrades that made it stand out to me as I was selecting which sandwiches to try, which I'll detail below.
Ingredients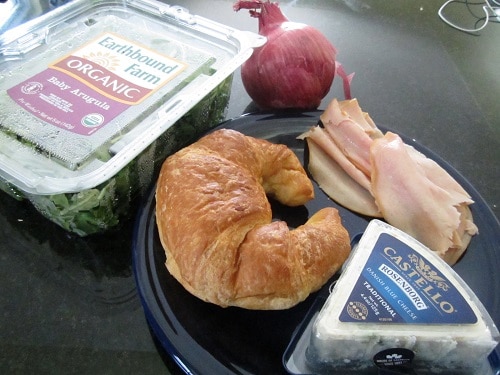 Croissant (I actually bought a giant one from Starbucks – my local grocer only had small ones)
Smoked turkey (I couldn't find smoked, so I just went with some high-quality stuff from the deli)
Bleu cheese
Red onion
Arugula
Step 1: Slice Onion
Step 2: Prepare Croissant and Begin Layering
Step 3: Add Onion and Cheese
Step 4: Broil
Step 5: Top with Arugula
Final Product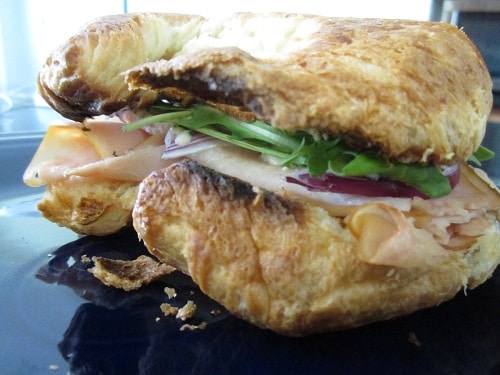 Taster's Notes
This is a fine sandwich indeed. Every piece was perfect. The croissant was an excellent bread choice, the turkey was a nice light meat (versus a heavy, greasy…something), the red onion had excellent crunch, the bleu cheese was delightful, and the arugula gave it just a little bit of kick. Truly fantastic selection of ingredients, Victor. I honestly wouldn't change a thing. As I mentioned above, it felt a little classier than some of the other sandwiches we've featured thus far. You could even impress your in-laws with this one. Pair it with an Arnold Palmer like I did, and you're set for a good weekend of watching golf on the big screen!