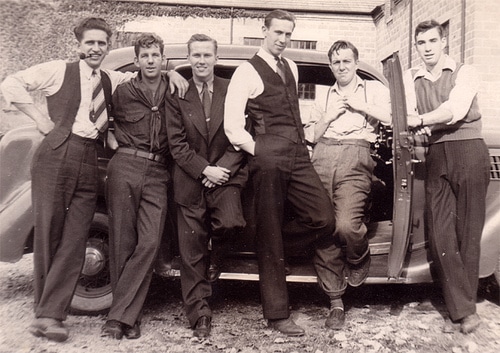 Image from jimlux38
We're happy to announce the launch of a new feature on Art of Manliness- The Art of Manliness Community. Our goal is to make The Art of Manliness more than just a blog that people passively read. We want AoM to become an active online community where men can hang out and help each other become better men. We've been doing a "beta" test with the community page for the past couple of months and have received rave reviews from participants. I think it's ready to be officially launched. So without further ado, let me introduce you to The Art of Manliness Community page.
The best way to describe The Art of Manliness Community is that it's like Facebook, but for manly men (and the women who love them). When you sign up, you can create a profile page where you can upload your photo and tell us little bit about yourself. It's been fun reading everyone's profile and learning more about the people who read AoM. But the community page is more than just a profile page. It has a ton of features that will allow you to interact with other AoM community members and create your own content.
Photos
You can upload photos of yourself doing manly activities like hunting or working on an engine. Or you can share pics of you and your family. Whatever you want (except porn of course). One thing we're hoping people will do with the photo section is upload their best vintage manly photos of their dads and grandfathers. I'd love for the photo section to be a place where people can share stories about the men who have inspired manliness in their lives. It can be a place where their legacy continues. If we find a pic that we particularly like, we'd love to feature it on the main site.
Personal Blog
Your community page has a place where you can write your own blog posts. This can be used in an infinite number of ways. First, you can use it  as a personal blog where you share your personal journey on rediscovering the lost art of manliness. I'm interested in reading your insights on what it means to be a man. Another way you can use the blog is to share manly tips and advice. Reading the comments on the main blog, we know there are lots of you out there that have some great advice for men on a variety of subjects. Got a workout plan that you think will work for others? Share the plan on your blog. Are you an expert in an essential man skill? Write a how-to for others. And just as with the main blog, community members can comment on your posts and add their insights to it as well. If we find a member blog post that we think is particularly good, we'd love to share it on the main site. This is a chance for you to get your content read by hundreds of thousands of visitors a month!
Videos
Got a manly video? Then upload it in the video section. So far we've had people upload quick how-to videos and inspiring montages. So if you're tired of watching videos of dudes getting kicked in the nuts, make sure to check out the video section.
Groups
With The Art of Manliness Community, you can create smaller groups of like minded men to discuss a particular subject. If you're a Christian, you can start a Christian group. If you're an atheist, you can start a group discussing what manliness means while being an atheist. You can even start fun groups. Right now we have a group dedicated to Scotch Whisky and Photography. We also have several groups for men living in different states. For example, an Oklahoma group and Illinois group. I'd love to see AoM members actually schedule meetups to grab a beer together and hang out. Which leads me to the next community feature…
Events
You can schedule and plan events in the AoM community. Say you're in Minnesota and want to go hunting for the weekend, but your usual hunting buddies aren't available. You can easily find another hunting partner by going on the community page and creating an event. Other people will see it and if they can come, they can sign up. After that, you can make arrangements with each other. The event feature can also be used to plan AoM meetups and make some new man friends.
Use the Community, Earn Points, Win Prizes
As an incentive for people to use the community, we've set up a point system that rewards individuals who contribute to it. After you've earned a certain amount of points, you'll be rewarded with cool manly gear. Right now we're giving away an official AoM t-shirt to those who earn 1,000 points, but stay tuned for even more man prizes.
Join Today!
So what are you waiting for? Sign up today and start interacting with the manliest men on the internet.