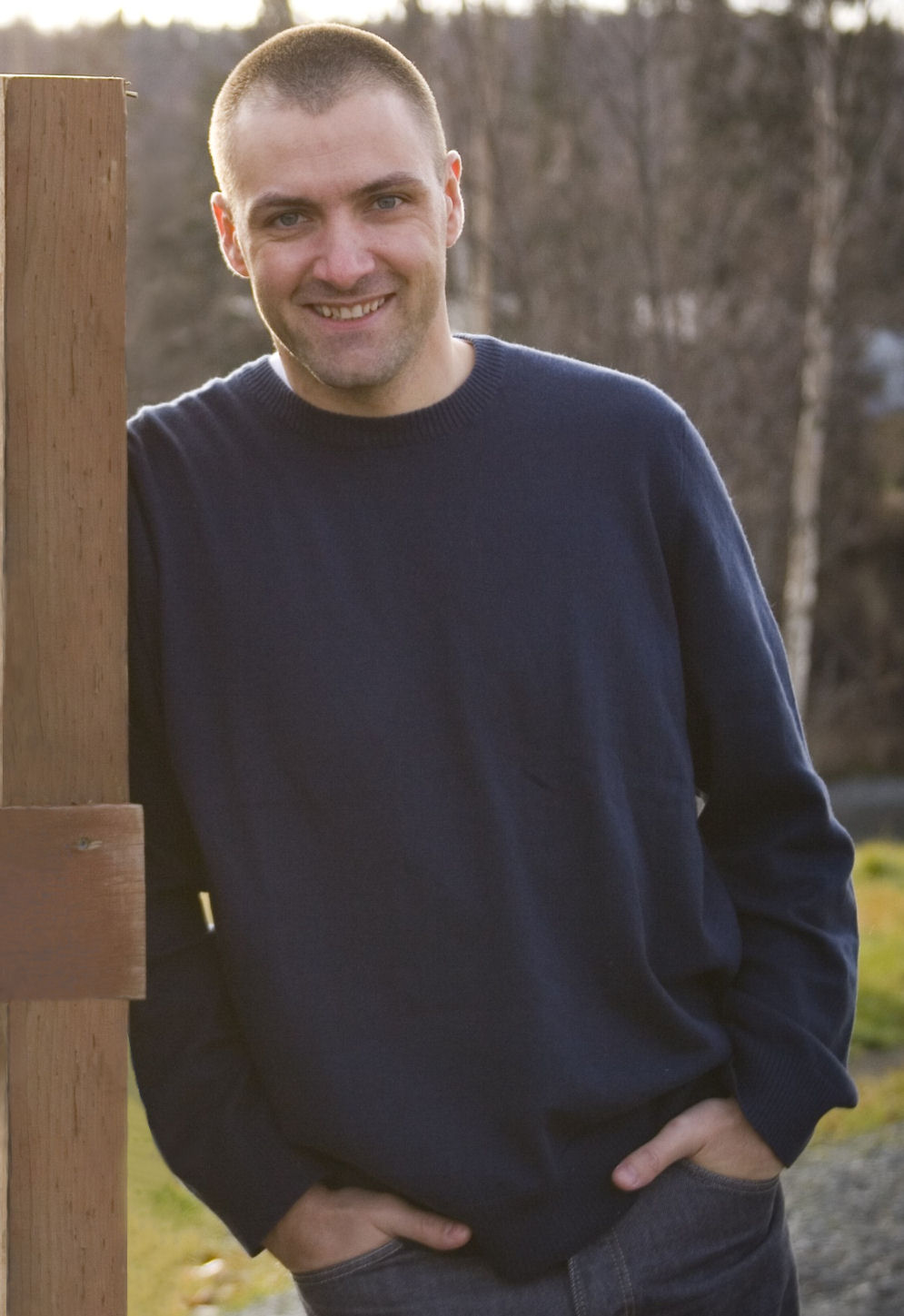 The Name of Your Nominee: David Bower
Age of Nominee: 35
Nominee's Location: Soldotna, Alaska
Why should David Bower be The Art of Manliness/Old Spice Man of the Year?:
It takes years to know a man's character, and the years have shown my husband to be a man of honor, responsibility, and unwavering principles. This is why David Bower wins my Art of Manliness Man of the Year Award.
David and I were still in our teens when we married. Even though we started a family young and were unprepared, David undertook his responsibility like a man and has ever since. While his friends spent their summers fishing and stayed up late partying, David worked long days at a Montana sawmill running the green chain, coming home dirty, tired, and smelling like the woods. While his friends had money to buy snow machines and four wheelers, David happily handed me his paycheck to buy diapers and groceries.
Logging was dying out, but David worked whatever job he could: setting chokers, maneuvering a skidder up a 50° mountainside, operating a fellabuncher while camping out in Eastern Washington. It didn't matter if it was 40 below outside or if he'd been up with the baby the night before, his crew could depend on him to be on the job and to do his job—and so could his growing family.
When our oldest child Jordan was four, he was diagnosed with leukemia. David met me at the hospital to find his boy in a metal bed surrounded by tubes and blinking machines. During Jordan's first year of treatment David rarely left his side. He wouldn't even take a cot, but slept beside him in bed. David read him stories, played hours of video games, and held him while he vomited incessantly or had out-of-control nosebleeds. David was there for the continuous injections, the rounds of spinal taps, the bloating and the hair loss—of course he shaved his own head.
The hospital staff trained David to flush Jordan's tubing with heparin, administer meds, and monitor his condition. Twice a week found David with gloves and mask carefully changing Jordan's sterile dressing; David was the only one Jordan trusted to be gentle and patient enough to do the job. David would make a fun game of it, pretending to be a doctor and calling me 'Nurse,' Jordan giggling throughout the 'procedure.'
Jordan has only good memories of those times. He remembers the fun with his dad, the hospital play room, and the portable purple Nintendo. Our family grew closer during the three years of treatment, and Jordan is still David's best friend.
With stricter logging regulations and having to travel further and further for work, David began volunteering as a reserve officer in the local police department. He would often manage twenty volunteer hours a week in addition to his regular job. But it was a sacrifice he was willing to make to build a more secure future for his family.
Two years later, David was hired as a patrolman. Although he left the woods behind, he brought his dependability and solid sense of duty with him. He never flinched from doing the right thing, even when reporting unethical abuse of power by a fellow officer cost him a promotion. Each day he put on his uniform and returned to work, no complaints and no excuses, his well-known sense of humor intact. Now a police officer here in Alaska, David continues to work with good-natured steadiness and trustworthy morals.
David's work as a police officer puts him in danger every day. He deals with those in crisis, those making life-changing choices, those exploiting others with drugs and alcohol, violent abusers, and many that despise authority of any kind. He has been called every name possible, kicked, hit, and threatened. He sits with and photographs the baby who was just shaken to death, investigates the wife's broken nose and bloody face, has a heart-to-heart with the runaway,
and conversations with the lonely.
While many officers crack under the stress, David treats each person with respect and dignity. While many officers return home in stony silence to their beer and the tv, David opens the door with a smile, his children rushing to see who can "hug Papa first." And after seventeen years, my heart still beats faster when I see that smile.
Through all the ups and down of life, the hard work and sacrifices, the laughter and good times, David has treated me like his Queen. He has never criticized me when the house was messy or dinner was late. He tells me often how much he loves me and how wonderful I am, and as a result I feel secure and confident. I am a better person because of him. David says his "hero power" is making me happy. And he has. I have never met anyone more qualified to be the 2008 Art of Manliness Man of the Year.
<– Previous Nominee 1 2 3 4 5 6 7 8 9 10 Next nominee –>
Vote for David Bower!
[polldaddy poll="1133542″]