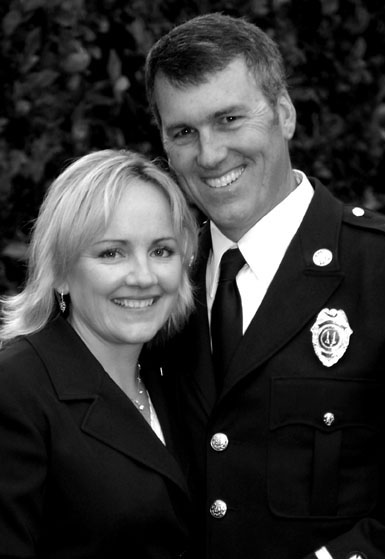 The Name of Your Nominee: Jeff Holden
Age of Nominee: 44
Nominee's Location: Petaluma, California
Why should your nominee be The Art of Manliness/Old Spice Man of the Year?:
My husband Jeff should no doubt be your The Art of Manliness/Old Spice Man of the year because he epitomizes TRUE manliness.
Jeff grew up the son of a large animal veterinarian, assisting his father for many years with cattle, horses and other livestock while also working to put himself through private high school. He started college with plans to become a vet himself, but later chose the path of firefighter, of which he has been for over 18 years. During his early years as a firefighter he managed to finish college with his Bachelor's degree in business management.
When I met Jeff, he was 23 years old and a perfect gentleman. We were together daily until he courted me 5 months later, proposed to me, bought a house for us, and moved in after we were married. Jeff continues to work as a fireman, with many part-time jobs over the years.
Jeff is the most tender and attentive father to our children ages 13, 11 and 11. After loosing our first daughter at birth, we were blessed with a son and then a daughter. Then, sadly, my sister in another state passed away suddenly 5 years ago and Jeff was the force behind adopting her 5 year old daughter that we now raise as our own. Jeff takes our children on numerous fantastic outdoor camping adventures and teaches them so many life and survival skills. From splitting and stacking firewood and building a fire to raising market lambs for 4-H, to hunting and fishing.
Jeff has honed his cooking skills over the years at the firehouse and does quite a bit of home cooking and baking. His best meals and desserts come straight from a cast iron dutch oven. If any work needs done to our property, he'll be the one on the tractor. He personally hauls all of our garbage to the dump and if there's a problem with the septic system, he'll be the one knee-deep fixing it. He did most all of the handiwork, electric, plumbing and carpentry work to modify our fixer-home (including building a studio for me!) and does all of the maintenance he can to keep our vehicles running well and safe.
Jeff raises a small flock of sheep on our modest one acre for meat and is an avid hunting sportsman, stocking our freezer with duck, pheasant, pig and abalone, (yes, he's a diver.) He has raised his yellow lab to be the best hunting dog a man could ever want.
Jeff received Firefighter of the Year from the City of Petaluma for his community service in our area, years of coaching Little League Baseball, assistant coaching basketball and currently serving on the board of the Sonoma County Fish and Wildlife commission.
On his off-duty days in the late summer, Jeff goes into the forest of the nearby dairy to chop down trees, and split into firewood to keep our family warm through the winter. He works out on a daily basis either at the firehouse or at home. He is a specimen, in prime physical condition for a man of 44 years old.
Jeff is an incredibly talented and sensitive lover and that's as far as I will go on that subject. But trust me.
I adore Jeff for being the head of this family, making wise financial choices to keep us from debt, taking us to church every Sunday he's off duty, for his strong and respected position as a Captain in the fire department, and for his dedication and service to our community.
If Jeff becomes The Art Of Manliness/Old Spice Man of the Year recipient, it would help this extremely manly-man get one step closer to owning a pick-up truck. Thank you for your consideration.
<– Previous Nominee 1 2 3 4 5 6 7 8 9 10 Next nominee –>
Vote for Jeff Holden!
[polldaddy poll="1133542″]