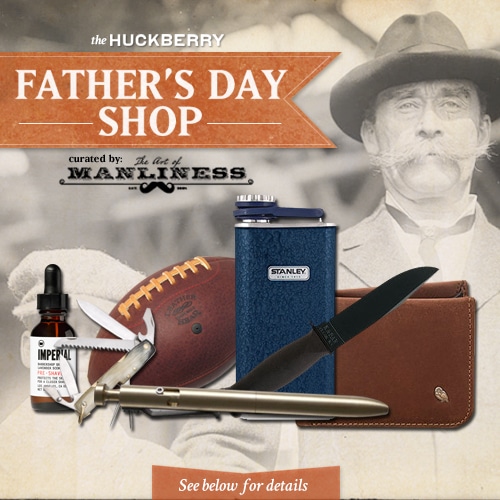 Today, Tuesday, June 4th, is the last day to enter our giveaway from the Huckberry x Art of Manliness Father's Day Gift Shop. Dad's Day is just under two weeks away, and you certainly don't want to forget or be tardy. Consider this your friendly reminder.
We've already had one winner from last week, and we'll randomly draw another winner today from either our comments or twitter. If you haven't entered yet, today's your last day to do so. If you already entered once the first week, you can do so one more time.  See more details below.
The Prize
Any item currently available in the AoM x Huckberry Father's Day Shop.
Bonus: If your name is drawn and you've already made a purchase for dad from the Father's Day Store, Huckberry will let you choose anything you'd like for yourself from the whole site, plus throw in a $50 credit as a thank you. Shazam!
How to Enter
Leave a comment sharing what you'd like to win.
Sign up for Huckberry to gain access to the Father's Day Store. You have to sign up because the store and the discounted prices are not available to the public. Just so we're clear, if you sign up for Huckberry, you're opting into receiving weekly emails from Huckberry on their exclusive deals. You can unsubscribe anytime you want.
This giveaway ends today, June 4, and you can enter twice.
Take a look around, pick one item you'd like, and leave a comment on this post sharing your selection.
All comments are moderated, so your comment will not show up instantly, but will show up later once it's approved.
If you are an email subscriber, do not reply to this email to make your entry. You must click on the title of this post, which will take you to the post on our web page. You must make your comment on the post on our web page to be entered.
Tweet
Tweet your pick and tag @artofmanliness and @huckberry and use the hashtag #fathersday.
Deadline to enter is 5PM CDT. One winner will be drawn. This post will be updated with the winners.
Good luck!