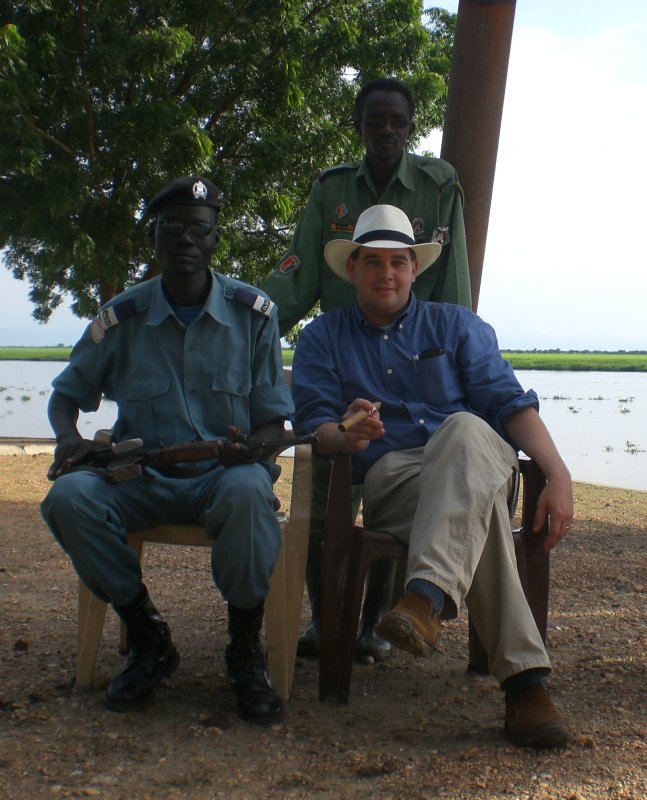 The Name of Your Nominee: Matthew L. Chancey
Age of Nominee: 32
Nominee's Location: Ashville, Alabama
Why should your nominee be The Art of Manliness/Old Spice Man of the Year?:
I knew my husband was a real man from the start. Not only did he wear impeccable three-piece suits and natty ties at age 19, but his favorite movies were all made before 1959, and he knew how to swing dance with verve. He loved the classic John Wayne-Maureen O'Hara movie, "The Quiet Man" (a long-time favorite of mine), and I quickly learned that Matt's similarly quiet, calm exterior hid a multitude of talents and abilities. His genuine friendliness and loyalty have served him throughout the years and kept him in touch with everyone from the local postmaster to heads of state in foreign countries. I never cease to be amazed at what real manliness can accomplish.
In many ways, my husband is a self-made man. He has never followed a "typical" path but has eked out his own, meeting fascinating people and taking incredible detours along the way. Two years of junior college left him chomping at the bit for real life and greater opportunities, so he dove head-first into the world of law and politics as a teenager. Working as an intern for a law firm near Washington, DC, Matt lobbied for good causes and became increasingly disturbed by the lack of integrity and (yes) true manliness in the halls of government. He made another leap, starting his own business at age 22, doing research and writing while keeping chickens and hunting with black-powder rifle in the wilds of the Shenandoah Valley (he has long admired the great agrarian apologists like Richard Weaver and sought to emulate their ideals—manly men never just sit and watch the world go by).
Matt's work branched out to include things as diverse as leading a two-week tour through Asia with 25 distinguished businessmen in 2001 and serving on the board of an organization devoted to helping refugees in Sudan. His service on that board grew with his love for Africa and the people there, and at least twice a year he can be found trekking into the wilds of Sudan and up the White Nile to bring relief to Darfurian refugees. In short, Matt is a far cry from today's "metro-sexual" or video game addict. He is a true man's man.
Matt reads widely, adding new volumes to our family library and constantly introducing his family to authors and ideas. Once a year, Matt hosts "The Gathering," a much-anticipated event that honors one man for his contributions to American thought, culture, and theology. Guests of honor have included a noted historian, a principled statesman, and a great southern orator and pastor. For three days, the honoree is surrounded by men who pepper him with questions, learn from his answers, and honor him for his life. My husband's desire to pay homage to real manhood shines through in each of these events. One year's Gathering took place in England and Scotland, as Matt lead a tour through some of the greatest sites in Western history (and stopped in pubs that have been gathering places to greats like Cromwell and Gladstone).
He'd never sing his own praises, but, as his wife, I never tire of doing so. My husband can read G.A. Henty's historical fiction aloud to our children at the dinner table and fix the brakes on a 1964 Ford pickup. He can deliver food and medical aid to a refugee camp on the border of Darfur and stand up in church the next week to tell about it. He can write a terse letter to the editor and compose beautiful poems to his wife. He plays piano masterfully by ear and sings with a wonderful baritone. His many facets shine in every situation, and he has never met a stranger. Because of his genuine manliness, our sons have a role model they can look up to on a daily basis, and our daughters have a hero for every bedtime story. Most of all, I have a husband I greatly admire, respect, and love passionately. He will always be my Man of the Year.
PS – The photo was taken in the upper Nile. My husband, cool as a cucumber in the 120-degree heat, demonstrates that it is possible to be well-dressed even in the far reaches of Africa. His companions are Sudanese freedom fighters.
<– Previous Nominee 1 2 3 4 5 6 7 8 9 10 Next nominee –>
Vote for Matthew L. Chancey!
[polldaddy poll="1133542″]