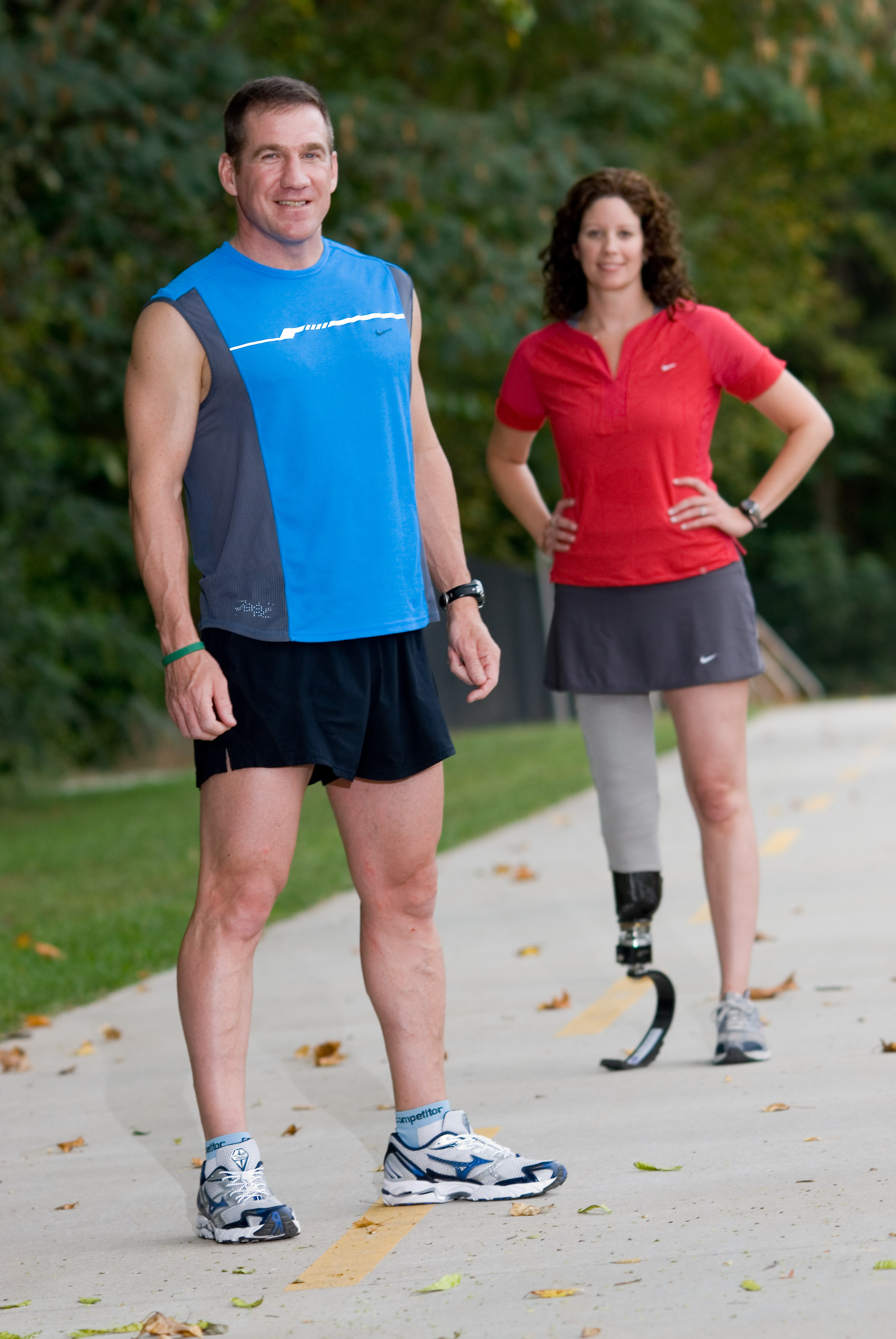 Name of the Nominee: Michael Lenhart
Age of Nominee: 41
Nominee's Location: Atlanta, Georgia
Why should your nominee be The Art of Manliness/Old Spice Man of the Year?:
Mike Lenhart is focused on inspiration, action, and on leading a life what leaves him "worn out and used up." He is a man's man and most every woman secret crush.
Focused? Yes. In 2006, Mike Lenhart, an avid and accomplished triathlete (more than 40) and marathoner (5, so far), and mountain biker (2 Muddy Buddies and counting) founded Getting2Tri (G2T) a sports foundation that provides coaching, mentoring and training in the sports of running, swimming, cycling to physically-challenged individuals (amputees and paralysis). Originally inspired to help wounded veterans (Mike is a 1990 Graduate of West Point and an Army office veteran), the organization now helps athletes of every skill level– from beginner to elite Kona Ironman competitors– get to the start and cross the finish line. His dedication brings purpose to participation for able-bodied athletes who serve as training mentors and a renewed sense of play and competition to physically-challenged athletes.
Inspired? You bet. Mike will be the first to tell you that his life is surrounded by heroes – and to him it's not a tag line or some smart quip – it's how he lives every moment and how he chooses to focus his energy. He is continually inspired by the athletes who have overcome major challenges to get to the start, or even just to start training for a race they never thought they could be part of. Every single athlete is his hero, his inspiration and his purpose in life. And every person currently in rehab, learning to walk or to use a wheelchair, drives him to reach out and build G2T so that they have the help they need to get back on the field of play.
Dedicated? Read on. To share Mike's philanthropy, I need to share is favorite quote which is his philosophy: "This is the true joy in life, the being used for a purpose recognized by yourself as a mighty one; the being a force of nature instead of a feverish, selfish little clod of ailments and grievances complaining that the world will not devote itself to making you happy. I am of the opinion that my life belongs to the whole community, and as long as I live it is my privilege to do for it whatever I can. I want to be thoroughly used up when I die, for the harder I work the more I live. I rejoice in life for its own sake. Life is no "brief candle" for me. It is a sort of splendid torch which I have got hold of for the moment, and I want to make it burn as brightly as possible before handing it on to future generations." – George Bernard Shaw
That quote is Mike. His philanthropy comes from this perspective. His passion is G2T, the foundation he created and is nurturing to grow and serve more people and bring more people together. Mike also is very active in his church community, serving as an usher and on the hosting community. He volunteers as vice-chair of the Southern Center for International Studies. He is a founding member of the Concourse Triathlon Club, one of the largest clubs in the state. But by his success with G2T, Mike also shares his time, experience and expertise with people looking to start their own nonprofits.
To me what is inspiring is that by Mike's gift of forming G2T, its reach to athletes, coaches, and others goes much further. By having courage to make his calling a reality, Mike is inspiring others to do the same. To recognize their calling and take action, to serve others and to create more for others is a legacy for all of us.
And finally, Mike leads a balanced life. He says his dog, Beau is his "alter ego." He is continually surrounded by friends and family – he is the kind of friend you want around to make everyone else feel comfortable.
<– Previous Nominee 1 2 3 4 5 6 7 8 9 10 Next nominee –>
Vote for Michael Lenhart
[polldaddy poll="1133542″]