For years now we've had an online store that sold different Art of Manliness themed products like t-shirts, posters, and stationery.
But there were a few problems.
First, the shopping experience in the AoM Store was a pain in the butt. If you wanted an AoM t-shirt, you had to go to the Tankfarm site; if you wanted stationery, you had to go to the Page Stationery website; and if you wanted posters, you had to use a special PayPal cart that I created.
How annoying is that? You had to visit three different sites and enter your credit card info three different times just so you could get a t-shirt, poster, and a box of AoM stationery. What's more, if you had a question about your order, you had to check with three different companies.
Second, I was handling the fulfillment and shipping on posters and pocket notebooks myself. That wasn't a big deal when we were first starting out, but I found myself devoting more and more of my time each week to rolling posters and stuffing them in tubes instead of creating virile content to help improve the lives of men. Christmastime was the worst. And because I was a rank amateur when it came to shipping and fulfilling, I biffed many an order.
To solve the crappy shopping experience and to ensure I never pull another all-nighter rolling posters, I'm happy to announce that we've partnered with ROBYN Promotions in Oklahoma City to create a new shopping experience for the Art of Manliness Store.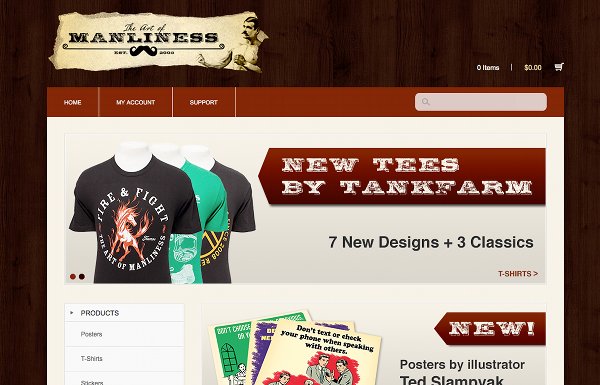 One-stop shopping. You can now order all our items in a single (and secure) shopping cart. No more visiting multiple sites to get what you want.
Order tracking. When people ordered posters from me, they had no clue on their order status. I didn't either. I didn't have order tracking. Now we do. As soon as your order ships, you'll get an email with your tracking number so you can see how soon you'll have your manly products.
Faster order turn-around. I could only devote Fridays to shipping posters and notebooks. That's all the time I had. So if you ordered something on Friday after I visited the post office, it would be a week before your order would even get sent. With the new AoM store, your order will be shipped within 48 business hours. No more waiting nearly two weeks to get your order.
Better customer service. Because we have dedicated professionals taking care of shipping and handling, we can offer better customer service. If you have a question about your order, just contact us.
I want to thank Eric Granata at ROBYN for his work on getting the new store going.
New Products
In addition to launching a new store platform, we're also excited to announce a bunch of new products.
New Posters — Featuring the Artwork of Ted Slampyak
Over the past few years, we've had the privilege of working with illustrator Ted Slampyak to create some awesome visual guides for the Art of Manliness. Many of you have requested posters featuring his artwork. We are happy to oblige.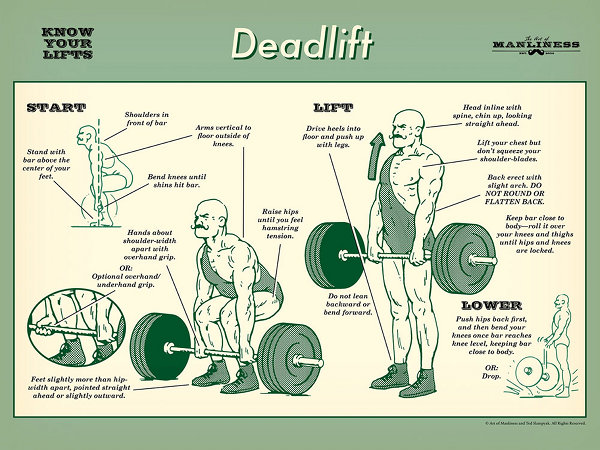 Ted has created a set of visual guides demonstrating proper weight lifting technique that we call "Know Your Lifts." Now you can buy the visual guides as posters. They're perfect for your home gym or Crossfit Box. We currently offer three posters: high-bar back squat, deadlift, and overhead press. Save $6 when you buy the complete set.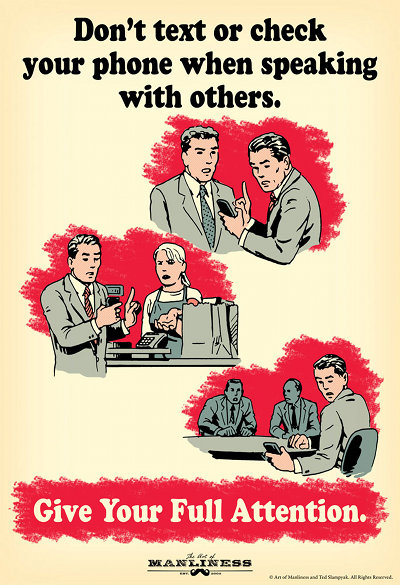 Back in January, we worked with Ted to create a set of vintage-inspired propaganda posters on cell phone etiquette. It's been one of our most popular posts of the year. Now you can buy a real-life poster for your office or classroom to remind people to practice good smartphone etiquette. Save $10 by buying the complete set.
In addition to these new posters, you can also buy our popular "If" and "Man in the Arena" posters.
New T-shirts

The gents at Tankfarm Clothing have once again designed a set of virile themed t-shirts for the Art of Manliness.
In addition to the new designs, we also have a few of our classic designs in stock like "Gentleman and Scholar", "Rough Rider", and "Strength & Honor".
Other Virile Products
Besides t-shirts and posters, you'll find some other great products in our online store.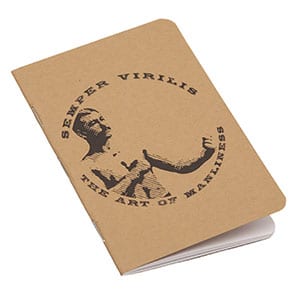 Far from being a modern fad, the pocket notebook has a long, important, and manly history. Pocket notebooks were part of the arsenal of a long list of great men from Thomas Jefferson to Thomas Edison. Follow in their footsteps by carrying your own official AoM pocket notebook where you can write down all your manly ponderings and ideas. The cover has John L. Sullivan with the words "Semper Virilis" (Always Manly) circling his head. On the inside of the front cover, you'll find the poem "If" by Rudyard Kipling, and on the inside back cover, you'll find Teddy Roosevelt's "Man in the Arena" speech.
AoM Letterpress Stationery and Coasters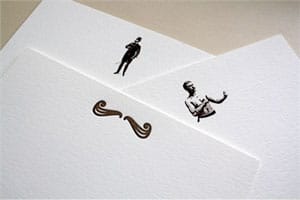 A gentleman understands the power of a handwritten note. Unfortunately, quality stationery designed specifically for men is hard to find.
That's why Art of Manliness has teamed up with Page Stationery to create a line of manly correspondence cards, perfect for jotting off a quick note.
We've also have some letterpress coasters for your manly beverages.
Special Launch Giveaway
To celebrate the launch of our new store and new products, we're having a giveaway. The prize is any one item from the new AoM store. To enter, visit the Art of Manliness store, pick out an item that you'd like, and leave a comment below sharing which item you want.
Deadline to enter is Friday, June 21, 2013 at 5PM CDT. We'll then pick three random comments to determine our three lucky winners.
As an incentive to enter, every one who enters will be sent a 10% discount code for the AoM store at the end of the contest.
Update: Our lucky winners are: Jason from Williamstown, NJ (Gentleman & Scholar tee), Victor from Chicago (Rough Riders tee), and Anthony from Westfield, IN (Know Your Lifts poster set).