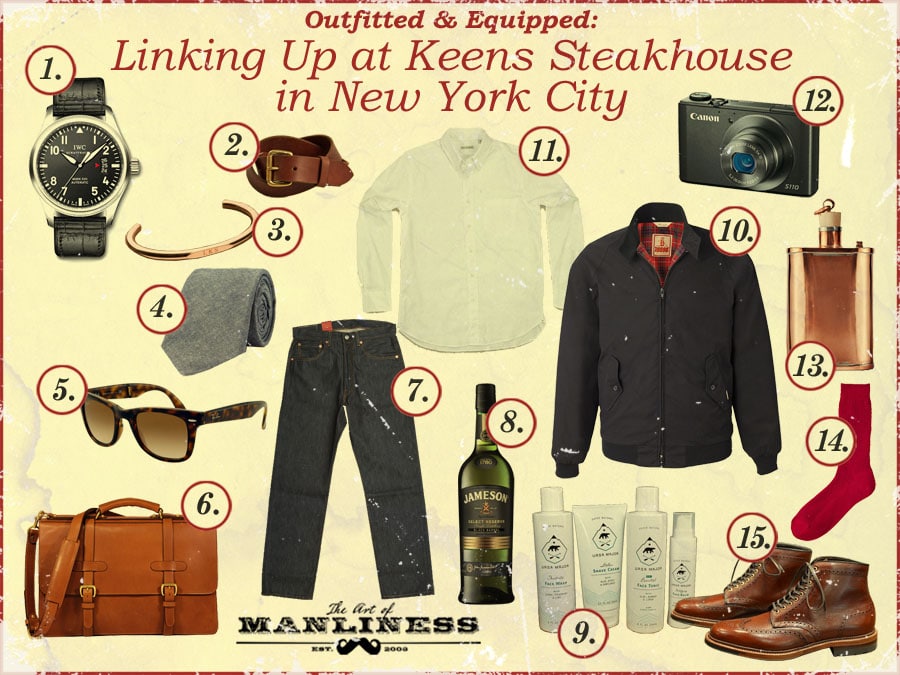 Editor's note: This is the third in a series of three editions of Outfitted and Equipped where I've asked three of my favorite men's lifestyle bloggers to curate an edition based on what they would wear and carry when linking up with friends at their favorite hometown hangout. This one is from Michael Williams who resides in NYC and blogs at A Continuous Lean.
A New York institution, Keens was founded in 1885 and is best known for its beautiful wood-paneled bar, the thousands of clay pipes that cover the place (Teddy Roosevelt, Babe Ruth, Will Rogers & Albert Einstein all have their pipes on display) and of course its famous mutton chop.
Keens is located not far from Herald Square on 36th Street. It's part of NYC that I rarely go because it can be so crowded and annoying, but it is worth the trip and the hassle. The place has history, the bartenders are efficient and knowledgeable, the crowd is interesting, atmosphere is enjoyable, and the food is great. What more could you want?
How does Outfitted and Equipped work? The FAQ.
1. The Watch: IWC Pilot's Watch Mark XVII. A simple and classic watch from one of my favorite watchmakers. The Mark XVII evolved from the great IWC pilot's watch of the 1940s.
2. The Belt: Tanner Goods Standard Belt. These guys do a great job of making very high quality small leather goods. These little things are often overlooked, but not here. The leather is great, and so is the hardware.
3. The Jewelry: Col. Littleton Copper Engravable Wristwire. I generally am against bracelets as a rule, but these are simple enough. Plus, I love anything monogrammed.
4. The Tie: Alexander Olch Chambray Tie. I've known Alex for six years or so, and I'm constantly impressed with his dedication to both making great looking things and to pushing the American cravat industry to new heights.
5. The Sunglasses: Ray-Ban Folding Wayfarer. Nice update to the classic Wayfarer. I like these glasses because you can easily keep them in a jacket pocket and tuck them away.
6. The Briefcase: Lotuff Bridle English Briefcase. Classic in looks and made in the United States; much like Keens, this bag only gets better with age.
7. The Jeans: Levi's Vintage Clothing 1954 501Z. The first ever zip fly 501 from Levi's. These jeans have the slimmest leg of any Levi's 501 through history. I wear them as often as I can.
8. The Beverage: Jameson Irish Whiskey.
9. The Pre-Outing Routine: Ursa Major Big Kahuna Skin Care Set. It's important to remember that while men generally age nicely, a little preventative maintenance (as my old man would say) never hurt anyone.
10. The Jacket: Baracuta G9. Good enough for McQueen, good enough for me.
11. The Shirt: New England Shirt Co. Pinpoint Oxford. This shirt transcends style and trends. It may fray and need some bleach, but will never go out of style. Made in Fall River, Massachusetts.
12. The Camera: Canon Powershot S110. I think this is the best point and shoot on the market and I almost always have it on me.
13. The Flask: Kaufmann Mercantile Handmade Copper Flask. Beautiful copper flask from one of my favorite online shops. You need this because sometimes the bar is crowded and you hate waiting for your next drink.
14. The Socks: Uniqlo Men's Socks. The Japanese are sock experts, in my opinion. Crazy value for your money here.
15. The Boots: Alden Alpine Wingtip Boot. Beautiful (nine eyelet!) leather boots from the New England shoemaking gods and only available from Leather Soul, one of the greatest shoe stores ever created.
_____________________________________
Michael Williams is the founder and owner of A Continuous Lean, a blog that highlights products and stories "for those with an appreciation of quality, style and provenance." Be sure to check out ACL's American List for a resource of Made in America clothing and goods. Unlike other such lists that often feature tacky products, The American List is geared towards younger consumers who are looking for domestically made items that are cool and stylish.