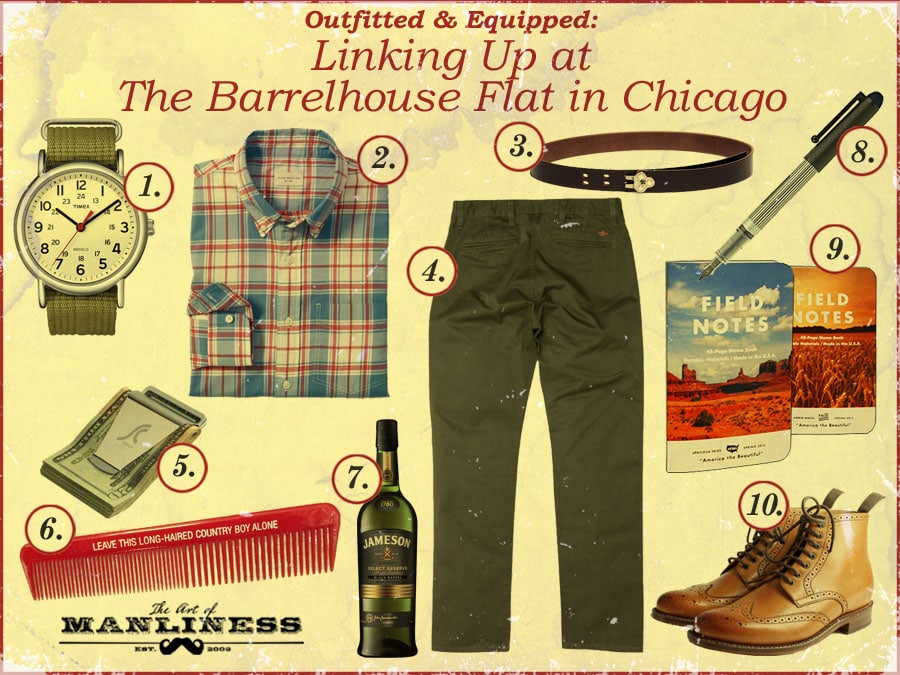 Editor's note: This is the second in a series of three editions of Outfitted and Equipped where I've asked three of my favorite men's lifestyle bloggers to curate an edition based on what they would wear and carry when linking up with friends at their favorite hometown hangout. This one is from Seth Putnam who resides in Chicago and blogs at TheMidwestyle.com.
The Barrelhouse Flat is a bustling corner den of Prohibition-era cocktail alchemy in Chicago's Lincoln Park neighborhood. It's a perfect place to meet up with an out-of-town colleague, a first date, or a friend who enjoys the finer things. Though it's relatively new, it brings a decidedly familiar feeling, with a bottom level where antique tile and big, farm-style tables invoke the atmosphere of a comfortable community watering hole. Upstairs offers a different story: an intimate speakeasy with plush furniture and hardwood accents. If this were the 1930s, you could envision an old Chicago mayor revising the city's tax structure on the back of a napkin while sipping a Negroni.
How does Outfitted and Equipped work? The FAQ.
1. The Watch: Timex Weekender. I finally did the adult thing and bought a watch a couple of years ago, and now I glance at it for the time, not my phone. This one's been serving me well, and the red second hand gives it a little extra personality.
2. The Shirt: Slim-Fit Plaid Edward Shirt. Blue is my color, but I need a little extra noise with some color. Sleeves rolled way up. It's finally spring, after all. (Or at least I wish it felt like it.)
3. The Belt: No. 150 Claw Buckle Belt. This belt was inspired by a rifle strap and the fixtures on a horse's bridle. Shooting and horseback riding—two pastimes rooted deep in my Missouri upbringing.
4. The Pants: Dockers Alpha Khaki in Riffle Green. The fit is perfect for my soccer-playing thighs and my skinny calves. In fact, I like these so much I've got two pairs; one in green and the other in their signature British Khaki. They look like trousers, but they wear like jeans. And they're affordable, too.
5. The Money Clip: Slim Clip. I converted to the money clip when my college roommate generously gave me an extra that he got from a botched order. I know something you get off an infomercial doesn't really fit with the "curated lifestyle," but it's been 5 years and the clip shows no signs of slowing down.
6. The Comb: The Comb from Buckshot Sonny's. A couple of years ago I never thought I'd be one to carry a comb. But since embracing the side-part (the same one I used to loathe during childhood haircuts from Dad), it's become essential. This one is sold by my good friend Max Wastler, and it gets its tagline from a Charlie Daniels song. Oh, and one comes free with every order.
7. The Drink: Jameson Whiskey. Having spent some time in Dublin, the taste is a nostalgic reminder of the Emerald Isle.
8. The Pen: Pilot Varsity Disposable Fountain Pen. As a journalist, I never really know when I'll need to record an idea. That's why I always have a pen. (Plus, I write most of my stories in longhand for the first draft.) Lately, I've been working with these disposable fountain pens, which don't sting as much when you lose them.
9. The Pocket Notebook: Field Notes. Not that they need the exposure, but it really is the perfect size to slip in a blazer or a back pocket. And writing is so much more fun than thumbing a phone.
10: The Shoes: Grenson Sharp Boots. They're expensive, but this level of quality and detail comes at a premium.
________________________________
Seth Putnam is a magazine writer and editor who works regularly for Chicago magazine, and the Sun-Times, among many others. He's the editor of TheMidwestyle.com, and the co-proprietor of the Overserved Society, a roving cocktail party. He lives in the Windy City, where he writes about living well—reporting on everything from Jay Leno's garage to folks who dress up in medieval armor and go to war on the weekends.