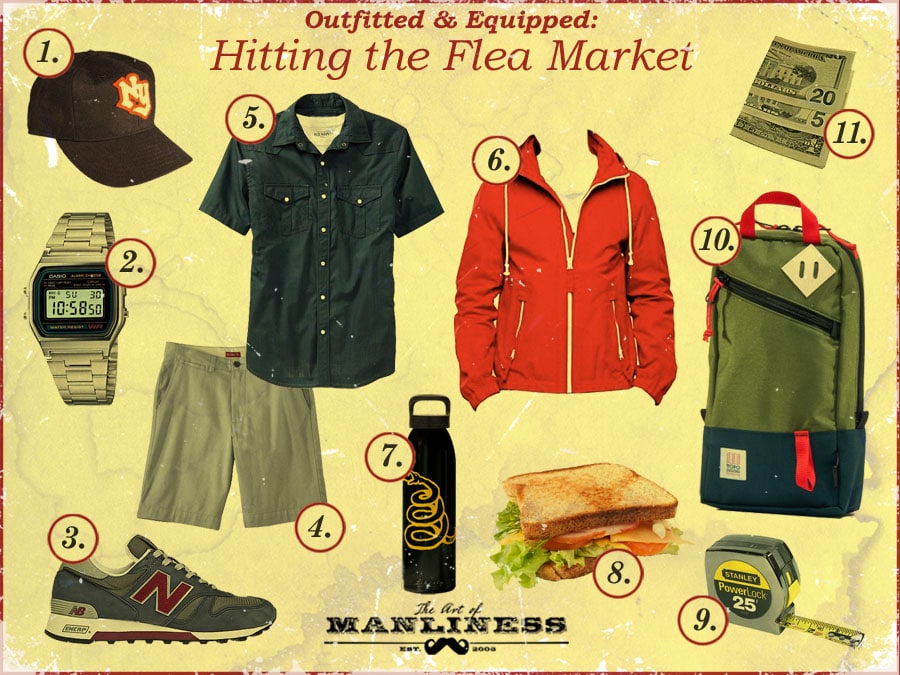 Whether you're looking for a specific piece of furniture to refinish or just want to browse through unique knickknacks and antiques, hitting the flea market on a Saturday morning is a great time. It's an activity that makes for a great, cheap date or something to do with a friend who's visiting from out of town. In fact, bringing a friend is a great idea for other reasons too; you can divide up to search for something, and they can help you load big things into your vehicle. Speaking of vehicles, make sure you bring one that will be able to transport whatever size treasure it is you're seeking.
For suggestions on what to wear and bring to the flea market, as well as some more tips on making the most of your experience, read on.
1. The Hat: New York Knights Ballcap by Ebbets Field Flannels. You'll need something to keep the sun out of your eyes while you're browsing old gas cans. This ballcap from Ebbets Field Flannels will do the trick. Ebbets Field Flannels specializes in re-creating the hats and jerseys of by-gone sports teams. You'll find hats from now defunct minor league baseball teams as well as the Negro League. This one was inspired by the fictional New York Knights from The Natural. All of Ebbets Field hats are made in the USA from wool broadcloth.
2. The Watch: Classic Casio Digital Watch. Leave your grandfather's heirloom Rolex at home. You don't want to wear anything that gives the impression (whether true or false) that you have a lot of money. You'll have an easier time negotiating prices down by keeping your accessories discreet. This Classic Casio Digital Watch will do the trick.
3. The Shoes: New Balance 1300. Many flea markets are so big you can spend hours upon hours browsing. That's a lot of time on your feet. You'll want to wear comfortable (already broken-in) shoes with some cushioning and support. These New Balance sneakers fit the bill and offer some throwback style to boot. Some of the only sneakers still made in the USA.
4. The Shorts: Merona Men's Chino Shorts. Comfy, stylish, affordable. Again, you want to keep what you wear pretty low-key so you don't look like you've got money to burn. But you don't want to look like a schlub (never know who you're going to meet) or a drifter either. Wear clothes that are casual, but have a bit of subtle style.
5. The Shirt: Western Shirt from Old Navy. A pearl-snap Western shirt is a step up from a t-shirt and a step down from a button down. It's a timeless, casual American look. Perfect for a day at the flea markets.
6. The Layer: Windbreaker from J.C. Penny. The best items at a flea market go quickly, so it's best to get there as soon as it opens (some folks start gathering a half-hour or more before that!). Since mornings can be chilly in many places before things start warming up, wear a light windbreaker. You'll also be prepared if the weather changes during the day. Don't let a little drizzle scare you away; some vendors will stay open and since business will be spottier, they'll be more eager to make a deal.
Not an early riser? If you get to a flea market in the hour or two before they close, selection will be sparser, but vendors will be more inclined to make a deal.
7. The Hydration: Aluminum Water Bottle from Liberty Bottleworks. You'll need to keep hydrated during those long hot days outside. Instead of forking over $2 for bottled water, bring your own. Liberty bottles are the only metal water bottles that are Made in the USA and they've got some cool designs like this "Don't Tread on Me" motif.
8. The Grub: All-American Sandwich. Getting some interesting eats from the booths and trucks near a flea market can be part of the fun, but if you're on a budget, and want to save more money for other stuff, bring your own lunch or snack.
9. The Tool: Tape Measure. If you find a cool piece of furniture or an awesome looking antique sign, you'll need to know if it will fit in your place. That's where the tape measure comes in. Can't go wrong with the good old Stanley Powerlock. Be sure to bring a list of the measurements for the room or location you're shopping for too.
10. The Pack: Trip Pack from Topo Designs. Bring a small pack to tote your water, tape measure, grub, and jacket once you take it off.
11. The Exchange: Cold Hard Cash. Don't count on vendors at the flea market to have Square or some other mobile payment service, or for there to be ATM's on hand. Cash is still king at flea markets. Bring a good mixture of large and small bills; the latter helps with negotiating (speaking of negotiating, be sure to read up on how to haggle like your old man before you head out). An added benefit of cash is that it sets a clear budget and prevents you from overspending. When it's gone, you're done.