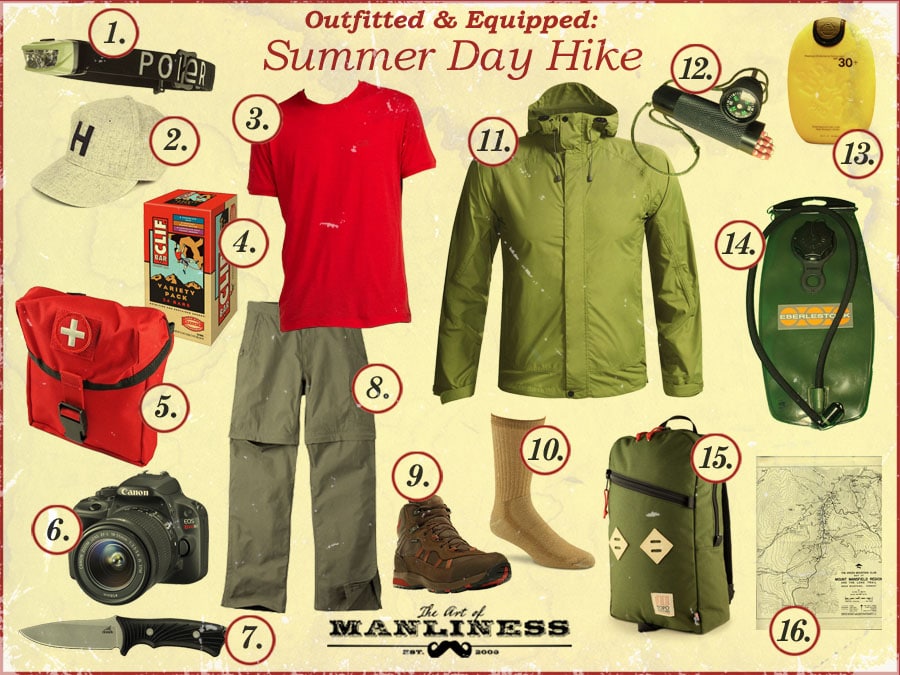 The official start of summer is still about a week away, but hiking season is in full swing. Whether you're in the Rocky Mountains of the West, the Smoky Mountains of the East, or the rolling hills of the Midwest, a summer hike on a weekend day is one of the most enjoyable activities one can do. Be it alone, with a friend, or with your family, hiking is accessible to nearly anyone, and a great way to get some sunshine as well as some exercise. We've put together a few essentials for your hike to make it as enjoyable and safe as can be whether you're going for five miles or fifteen.
1. The Headlamp. Poler Headlamp. For longer or more popular trails (or that romantic sunrise hike), you may need to start when the sun is still below the horizon. It's also great if you're planning was a little amiss, and you aren't back to your car before the sun sets. This headlamp goes right around your noggin, and is way more convenient than a flashlight.
2. The Ball Cap. Huckberry Explorer's Cap. Your hat is essential for the summer hike. Its multiple benefits include keeping sweat out of your eyes, protecting your face and neck from sunburn, and also keeping your eyes shielded from the sun's bright rays when they're pounding down on you from above. This one from Huckberry is made in Seattle and very appropriately has a compass stitched on the back.
3. The Shirt. Icebreaker Tech T Lite. A good, light t-shirt will be a godsend on your hike. A cotton tee can get sweaty, sticky, and clammy. This one is made with merino wool which is surprisingly breathable and cool and also naturally resists odor and dries fast if you decide to take a quick dip in the stream.
4. The Food. Clif Bar Energy Variety Pack. Especially if you're starting early, this makes a great start to your day if you didn't have time to make a hearty breakfast. They also are the perfect snack when you take a fiver. Clif Bars are standard fare on hiking trails; with a good amount of carbs and some protein they're pretty tasty and keep you going.
5. The Just-In-Case. Elite First Aid Kit. Includes various gauzes, wipes, bandages, adhesives, and pain relievers. You never know when you or your little one will stumble over a rock and scrape a knee, or God forbid something more serious. This is especially important if you're in the backwoods for an extended period of time.
6. The Camera. Canon EOS Rebel Digital SLR. Whether you find yourself atop a mountain summit or along the banks of a misty river, there are few opportunities better for photo-taking than a good hike. Your phone may do the trick, but in my experience, hiking photos turn out to be some of the best you ever take, and you may want a few blown up as prints. Don't take the risk of having blurry prints.
7. The Knife. Gerber Big Rock. Everyone should have a pocketknife on them at all times, and especially when you're out hiking. Mine has come in handy on the trail for more uses than I could even list. It's a safety tool, a survival tool, a tactical tool, a multi-tool, and more.
8. The Pants. Mountain Khakis Granite Creek Convertible. This is the perfect hiking pant. If there's one thing you buy off this list, make it these pants. They are lightweight, but durable. They're water resistant. They have tons of pockets for your camera, knife, map, etc. And best of all, they're zip-offs. I prefer pants when going through woods, as you never know when a thorned plant will reach out to greet you. But for open spaces when it's really hot, you'll want the shorts. To top it off, they're made in the US of A.
9. The Shoes. Danner St. Helens Hiking Boots. Don't skimp on the shoes. This particular pair is very reasonably priced, and should last you a few years of serious hiking. The mid- to high-top is the way to go, in my opinion, as it protects your ankles from those potential slips over rocks. Hiking boots are also built sturdier than your standard athletic shoe to protect from the extra wear and tear. I'm always amazed when I see sandals on hiking trails; don't be that guy.
10. The Socks. Fox River Hiking Socks. Special socks just for hiking? You bet! Believe it or not, they make a big difference. Water will dry noticeably faster, it will protect better than your average sock from blisters, and you won't be gagging for fresh air when you take your shoes off after a long hike. You don't need more than one pair unless you hike multiple times per week, so it's not a strain on your wallet either.
11. The Rain Jacket. Sierra Trading Post Trabagon. Admittedly, this isn't something you'll use a lot. However, it could literally be a lifesaver if you get caught in a storm. Especially if you're in mountain areas, storms come in almost every afternoon, and they can come fast. To be caught at high elevations in a cold rain is asking for hypothermia. This jacket is light, inexpensive, and will fold up just fine in the bottom of your pack.
12. The Matchbox. K&M Matchcase. Some match cases look cool but are poor quality; you don't want to take chances with an item like this. K&M matchcases are made by a mom and pop operation based in Elk River, Idaho and come with a lifetime guarantee, and a compass too. Matches are essential gear for your multi-day backpacking trip, as well as for survival should you get lost. The compass will also come in handy should you lose the trail. Don't know how to use it for navigation? No problem, we've got you covered.
13. The Skin-Saver. Sun Bum Sunscreen. It's well documented that skin cancer is on the rise because we don't protect our skin well enough from the sun. Don't make that mistake when you're out hiking; this water resistant and non-greasy sunscreen is perfect. I like this one because it works even when you're active, doesn't feel too heavy, and doesn't contain hormone-altering chemicals like oxybenzone. For maximum effectiveness, re-apply every 80 minutes or so.
14. The Hydration. Eberlestock Hydration System. Keep yourself well-hydrated with this lightweight water bladder. Fits easily into your backpack, and is super convenient versus having multiple water bottles that need unscrewing every time you want a drink. I love this one because it's easy to clean and easy to fill and the bladder is made of an antimicrobial material; you can leave water in it for months and it still tastes fresh and clean when you take a sip. Way better than the Camelbaks I've owned. Recommended by military veterans, it's also super durable; mine held up during my Goruck Challenge while Camelbaks busted.
15. The Pack. Topo Designs Daypack. A good hiking backpack has a few defining characteristics. It's sturdy and made high-quality material that won't break down. It's breathable, to lessen the sweat factor. It's also waterproof, keeping the contents inside nice and dry. A good pack will have a few extra straps and pockets for your other various essentials. This pack has all of that and it's made in the USA.
16. The Navigator. Topo Trail Map. Maps often come on digital devices these days, but on the trail, relying on a phone is a recipe for disappointment. Batteries die, cell signals fail, and the sun glares brightly off the screen. Having a paper trail map keeps you right where you need to be, and will keep you out of harm's way should you get lost. Learn how to read a topographic map.