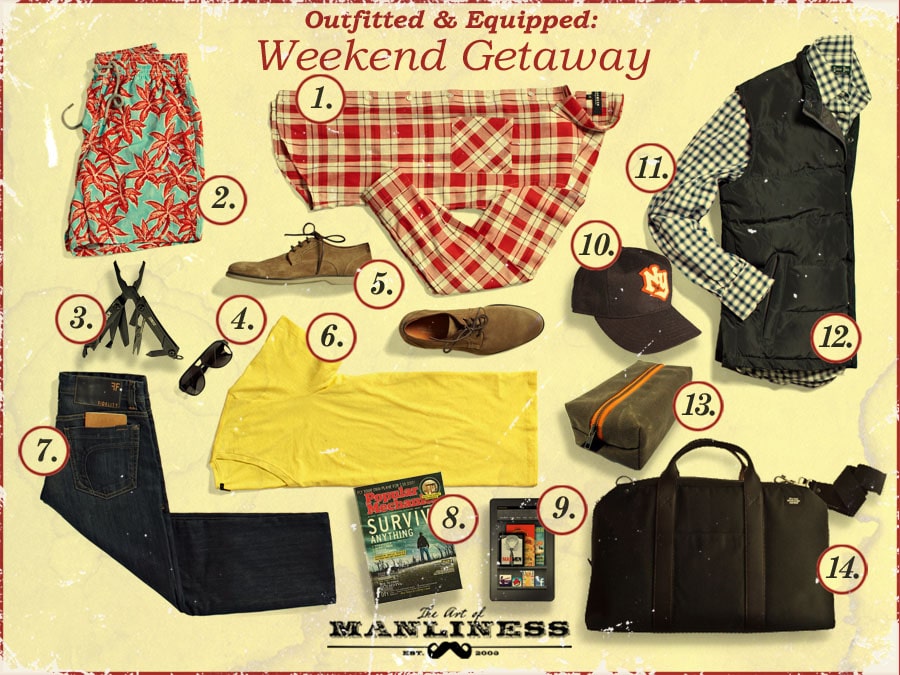 | | |
| --- | --- |
| | This post is brought to you by Trunk Club. Trunk Club takes the hassle out of shopping for higher-end clothing by pairing you up with a personal stylist who creates and ships a box filled with outfits directly to your door. |
How does Outfitted and Equipped work? The FAQ.
Sometimes all a man needs to recharge his batteries is a quick weekend getaway – maybe a little road trip to stay at a B&B with his lady or a quick flight to see old friends. One of the keys to making a weekend getaway a refresher instead of a drag is packing light. To that end, you want to bring items that are both versatile and comfortable and will suit a variety of possible activities and temperatures.
Note: The clothing and accessories lack links this time as they are all available through Trunk Club.
1. Plaid button-down. A plaid button-down is light and easy to pack, and it looks good for both casual daytime activities and going out to places that are a little more formal at night.
2. Swim trunks. I like Rules for My Unborn Son author Walker Lamond's philosophy when it comes to packing swim trunks: "I'm an optimist, so I always carry a bathing suit in my bag wherever I go." You never know if your getaway will find you taking the plunge in the ocean, lake, or simply the hotel swimming pool.
3. Multi-tool. When I'm traveling by car, I like to have a multi-tool with me. I guess it's the Boy Scout in me. You never know when you'll need to use it. (For the best TSA-approved pocketknives and multi-tools for when you're flying, check out this post by our friends at Gear Patrol.)
4. Sunglasses. These are a must if you're driving to your destination. Nothing worse than squinting into the setting desert sun as you're driving west on I-40. Once you arrive at your destination, they'll be put to good use whether you're spending an afternoon at the horse track or taking a sailboat out on the bay.
5. Shoes. A pair of brown suede shoes offers the right balance between casual and dressy. You won't look out of place wearing them whether you're at a roadside diner or a more upscale restaurant in the big city.
6. T-shirts. When you're gone for just the weekend, you want clothes that can work double-duty. T-shirts fit the bill. Wear them solo or as part of a layered look.
7. Dark Denim. A nice pair of dark color jeans with minimal distressing is another one of those clothing items that can work for different occasions. They'll look great with a t-shirt and a pair of casual sneakers during the day or a sport coat, button-down, and a pair of loafers at night. They're the only pair of pants you need for a quick getaway.
8. Magazine. Traveling is when I catch up on all my magazine reading. I bust them out for plane trips and relish reading them in bed at night. I'm not looking for anything too heavy here. Just fun, easy stuff that lets my mind take a vacation while I'm on vacation.
9. Kindle. I also make sure to stock my Kindle with plenty of great airplane or car-trip reads. I like to have a mix of fiction and non-fiction on there. For fiction, you can't go wrong with anything by Louis L'Amour. His novels are fun, quick reads. For non-fiction, I'll typically download the latest pop-business or psychology book. You know, the stuff you see in airport bookstores. They're entertaining and also give me some conversational tidbits to bring up with friends.
10. Ball cap. In my experience, the return trip home usually starts early in the morning. I want to maximize the amount of sleep I get, so I'll skip the morning shower. To cover up the bed-head, I just slap on a ball cap.
11. Checkered button-down. Checkered button-downs have the same benefits as their plaid cousins. Lightweight, easy to pack, and versatile. I've become a big fan of gingham-checkered shirts in recent months.
12. Vest. The weather can change rapidly while traveling. A light vest not only will keep you warm in cooler locales, but it looks great with that plaid button-down you're bringing along.
13. Dopp kit. For details on building the perfect dopp kit, click here.
14. Duffle bag. When you're traveling for just the weekend, you want something simple and light. A duffle bag allows you to skip checking a bag if you're flying and it doesn't take up much space when you're driving. And as one of Mr. Lamond's rules for his unborn son advises, "Never pack more than you can carry yourself, and a man's luggage doesn't roll."