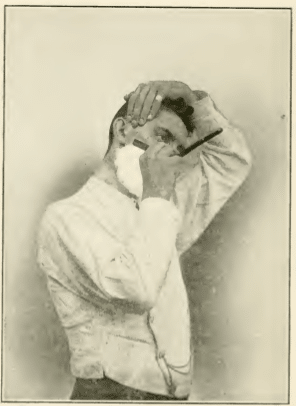 Have you wanted to start straight razor shaving, but balked because you're afraid you're going to decapitate yourself? While there are plenty of guides on the internet on straight razor shaving, they often get too bogged down in details to be of any use to the pure novice. Luckily, I stumbled on a little book written over 100 years ago that explains the very basics of getting started with straight razor shaving.
It's called Shaving Made Easy.
Written in 1904, Shaving Made Easy is the book I used to learn how to straight razor shave. I figure the best men to learn how to shave with a straight razor are the men who shaved with it on a daily basis 100 years ago.
Shaving Made Easy helped me so much on my journey with straight razor shaving, that I had to share it with others. So I took a couple of days to format it into a nice, easy to use PDF ebook for others to enjoy as well. Now you, too, can get the same benefit and enjoyment I did from the book.
What You'll Learn in Shaving Made Easy
The book is divided into different sections that correspond with the different parts of straight razor shaving. In Shaving Made Easy you'll learn:
How to pick a straight razor
How to hone and strop (sharpen) your straight razor
How to pick a leather strop for your razor
How to hold the straight razor
How to use a shave brush
Proper shaving strokes so you don't cut yourself
How to handle shaving nicks
In addition to the descriptive text guides on straight razor shaving, Shaving Made Easy is filled with awesome illustrations that demonstrate proper shaving technique. These vintage illustrations are not only useful, they're plain fun to look at.
How to Get the Book
Are you ready to start straight razor shaving? I thought so. You can download the ebook right now for  just $4.00. Purchasing Shaving Made Easy at an antique book store would probably cost you well over $30. And that's counting on whether you can even find it. Classes on straight razor shaving run $70 and modern straight razor shaving guides out there cost much more. I want people to get the same satisfaction that I do from straight razor shaving, so I'm keeping the price low. Just $4.00 will teach you everything you need to know about straight razor shaving.
Good luck and good shaving!