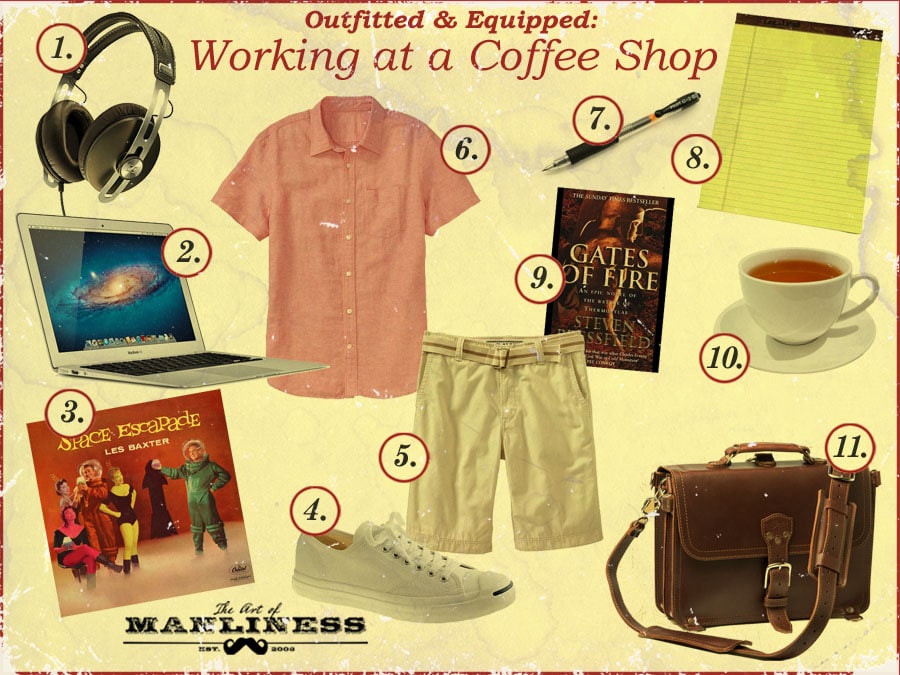 Whether you're self-employed, a student, a freelancer, or simply have an office job where your boss lets your roam, working in a coffee shop occasionally can be both enjoyable and beneficial. Changing up your environment can spur your creativity, and our fear of being out in public alone without a purpose can motivate us to keep busy and stay on task. Plus, if you work at home, you know it can occasionally get a little isolated and lonely – it's nice to go out and be surrounded by humanity now and again. When I head to a coffee shop to get some work done, here are the kinds of things I like to bring along.
1. The Headphones: Sennheiser Momentum Headphones. Researchers have actually found that a moderate amount of ambient noise – the background sounds of a coffee shop — can spur more creative thoughts than working in a quiet or very loud environment. It's what Atlantic columnist Conor Friedersdorf calls "just enough distraction" – a happy place between onerous interruptions and stultifying silence. But if I'm seated by people having a loud conversation, the noise of a coffee shop quickly goes from just enough to highly distracting – I want to listen to what they're saying. So I always bring a pair of headphones – the music blocks out the yakking while still letting in some ambient buzz. These Sennheiser Momentum headphones fit the bill nicely and combine old-school style with modern high-tech, high-fidelity performance. They produce a naturally rich and clear sound with expertly rendered mids, and smooth highs.
2. The Laptop: MacBook Air. I always try to bring my laptop fully charged. Sometimes there isn't a seat by an outlet, so you'll need all the reserve juice you can get. The MacBook Air has got some fantastic battery life.
3. The Tunes: Les Baxter Space Escapade. I need music with "just the right amount of distraction" while I work. Songs with lyrics throw me off and sometimes classical music is just too heavy. That's why my go-to soundtrack when I'm working is exotica music. It's pleasant, light, and reminds you of 1950s suburbia. Les Baxter's Space Escapade is a good album to start with. It's filled with great tunes that will keep you productive during your coffee shop work session.
4. The Shoes: Jack Purcell from Converse. Go with a classic canvas sneaker rather than flip-flops in the summer for a more mature and put-together look.
5. The Shorts: Flat-front Shorts from Old Navy. An affordable, good-looking pair of khaki shorts.
6. The Shirt: Linen shirt from Gap. You don't need to get all gussied up to go down to a coffee shop, but you shouldn't schlep in wearing your pajama pants either. You never know when working in a coffee shop will turn into a networking opportunity (or a social one), so aim for something comfortable but also a little stylish. My mind also feels sharper and more alert when I'm in "real" clothes rather than lounge wear, and even if a shirt is casual, wearing a button-down of any sort seems to heighten this effect.
7. The Writing Utensil: Pilot G2. My go-to pen for everyday work. Writes like a champ, but cheap enough that you won't lose any sleep if you accidentally leave it behind.
8. The Scratch Pad: Yellow Legal Pad. When I get stuck while writing on my laptop, I start sketching out notes or an outline on a legal pad. I like the yellow expansive canvas to work upon and changing up my medium can often help me overcome a bout of writer's block.
9. The Authorized Distraction: Tides of War by Steven Pressfield. Whether I'm working at home or at a coffee shop, I like to employ a Pomodoro-type method to keep myself productive and on track. I work for a set amount of time, such as 50 minutes, and then take a 10 minute break to do whatever I want. This can mean getting a snack or taking a walk, or reading a book for enjoyment. I just finished The Tides of War. Awesome book about the Peloponnesian War that will inspire your manly thumos.
10. The Beverage. When you're working at a coffee shop, you're squatting on a piece of real estate the owners pay rent for, using the wi-fi they get a bill for, and enjoying the air conditioning that costs them money. So don't be a leech. Buy a drink every couple hours you're there. A cup of joe or tea will keep you alert and give you something enjoyable to sip on.
11. The Briefcase: Saddleback Thin Briefcase. You'll need something to haul your supplies in. Any bag that comfortably fits and organizes all your stuff will do, but if you're looking for something rugged and handsome that will last a lifetime, look no further than a bag from Saddleback. I myself have the classic briefcase, but were I to do it over again, I'd probably choose this thin version. The classic is a beast, which is great for traveling, but for my more frequent day-to-day needs, its trimmer brother would have fit the bill better. Whatever kind of bag you get, look for one with a buckle strap you can latch down for security; when you get up to grab something, would-be thieves won't be able to casually dip their hand into your bag.