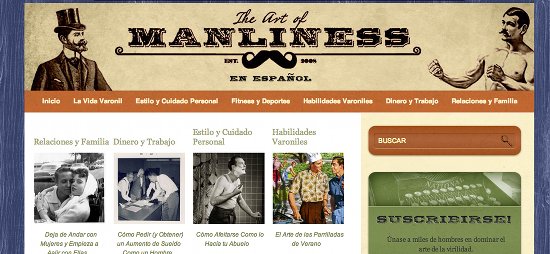 As our audience has grown over these past five years, we've discovered that more and more of our readers live outside the United States and that many reside in Spanish-speaking countries. We've gotten a ton of requests to please make a version of AoM in their native tongue. We listened and instead of forcing these fine gentlemen to rely on the often incorrect Google Translate to translate our articles from English to Spanish, we decided to create an official Spanish version of the Art of Manliness.
Si quieres leer este post introducción en español, por favor haga clic aquí.
The Vision for the Art of Manliness en Español
At the outset, I want to say that creating a foreign language version of The Art of Manliness is an experiment for us. We're learning as we go. My hope is that by offering a language and cultural-specific version of AoM, we can better serve more of the great men who believe in The Art of Manliness way of life.
I'd like to share with you how I see the creation and development of The Art of Manliness en Español going. Right now, there are two planned phases of development.
Phase I of my plan is to simply translate past articles from our English site and publish them on the Spanish site. We'll only be translating and re-publishing the very best from the archives that cross cultural boundaries. The primary goal during Phase I is to build up a core audience for The Art of Manliness en Español so that we have the web traffic to support this venture. I imagine this taking from three to six months.
After we've established our core audience, we'll move into Phase II. The goal during Phase II is to create original content that's geared specifically towards Spanish-speaking men. I'm well aware that much of our content on the English version of the Art of Manliness is geared towards an Anglo, and particularly an American audience. I want to make sure that the content we provide on The Art of Manliness en Español resonates with all our Spanish-speaking readers — those living in Spain, Latin America, and even here in the States as well. So for example, instead of doing a Lessons in Manliness article about some famous American man, I'd love to see a Lessons in Manliness article about great men from the Spanish-speaking world. I also want to recreate our 100 Books Every Man Should Read list, but include significant Spanish authors in the mix.
To fulfill this goal of creating original content, I plan on soliciting article submissions directly from the AoM en Español audience. If you're an aspiring writer/blogger who speaks (and writes!) Spanish, stay tuned.
How You Can Help
We don't have an advertising or marketing budget to promote this site, so we'll need as much help from you to spread the word about The Art of Manliness en Español as possible. The faster we can build up our audience, the sooner we can begin rolling out new features and original content. If you're a Spanish-speaking reader, please like our Art of Manliness en Español Facebook Page, follow AoM Español on Twitter, and sign up for our weekly email newsletter. If you have Spanish-speaking friends, please let them know about the Art of Manliness en Español.
Thank you all for your continued support of The Art of Manliness. We look forward to offering even more additions to the site that will help men from different cultural backgrounds become the best men they can be.