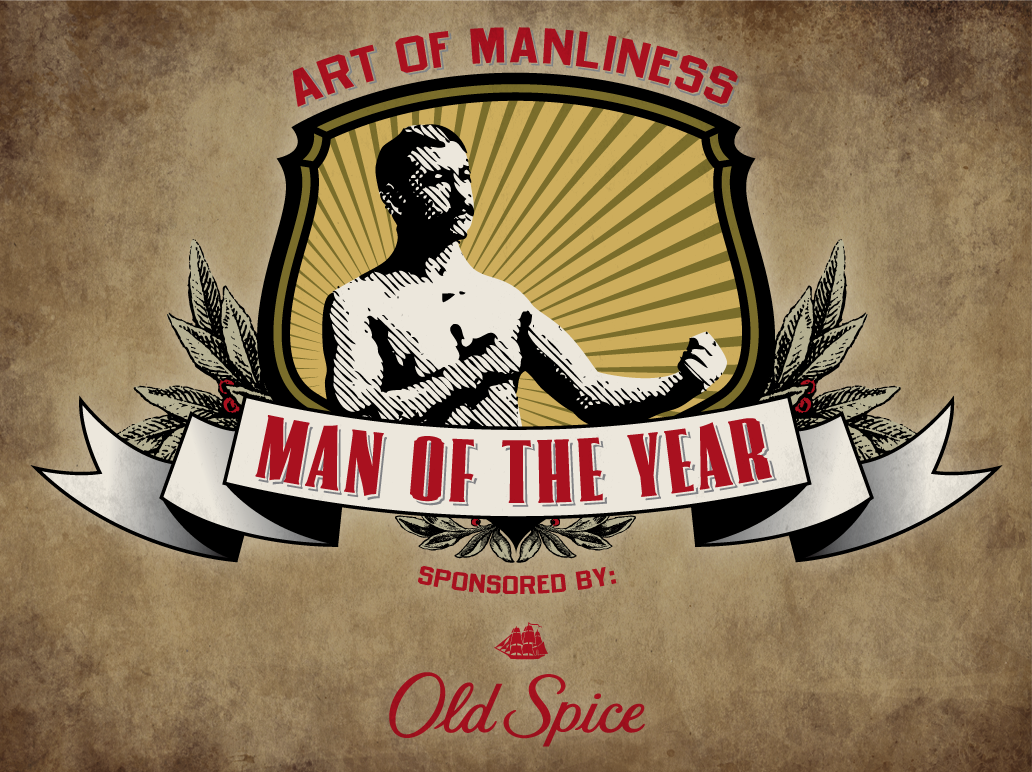 We all know men in our lives who represent what's best about manliness. The live their lives quietly and with great dignity and honor. They work hard, do their best to be good husbands and fathers, and they serve their community and their country. Sadly, this type of man rarely gets any recognition for his example of true manhood. Honorable manliness has ceased to be celebrated.
The Art of Manliness and Old Spice would like to change that.
AoM is teaming up with Old Spice in presenting the First Annual Art of Manliness Man of the Year Award. Our goal is find a man who represents the ideals that The Art of Manliness represents. We want to honor this man and give him $2,000 in cash. And you're going to help us.
Who is the Art of Manliness Man of the Year?
The Art of Manliness Man of the Year isn't a celebrity or a national hero, he's a regular guy, a man who:
Looks out for and is loyal to his friends and family.
Does the right thing, even when it's not convenient.
Serves and gives back to his community.
Sacrifices for the good of others.
Works hard and never complains.
Has a confident swagger, but isn't a pompous jerk.
Has a sense of humor but doesn't cut people down.
Embraces instead of shirks responsibility.
The Selection Timelines
From October 20, 2008 until November 9, 2008, we'll be accepting nominations for the award. Nominations are open to anyone and everyone.
An editorial staff will whittle down the nominees to 10 manly finalists. Starting November 24, 2008 and running until December 13, 2008 voting will open to the public at The Art of Manliness website. The finalist with the most votes will be named The Art of Manliness Man of the Year.
The Award
First and foremost, receiving the honor of being Man of the Year is an award in itself. But we want to do more for the Art of Manliness Man of the Year. That's why we're giving this paragon of manliness a $2,000 cash prize. That's right. The Grand Prize for the Man of the Year is $2,000 in cold hard cash. He'll also get a manly gift basket filled with 12 Old Spice deodorants and 12 Old Spice body washes.
The 9 other finalists won't be walking away empty handed. They'll also be given an assortment of products from Old Spice.
How to Nominate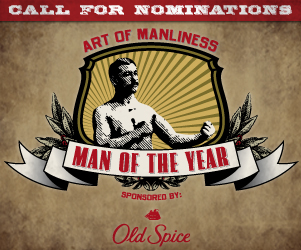 Do you know someone you think should be Man of the Year? Fill out and submit this online nomination form by November 9, 2008. You'll be required to give the nominee's name, age, and location. Also, you must upload a picture of the nominee and you must write a short essay in 800 words or less on why your nominee should be The Art of Manliness Man of the Year. This is your time to convince America that your nominee deserves the honor, so give it your best effort. Finally, you must submit the name, phone number, and email address of two references who can vouch for your nominee's manliness.
Again, the deadline to enter a nominee is November 9, 2008.
Good luck to all your manly friends, brothers, fathers, boyfriends, and husbands!