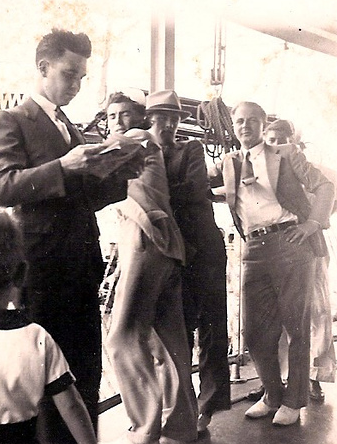 Welcome to first edition of the Manival! The Manival is a blog carnival that brings together the best posts by man bloggers written with men in mind. I'm really excited about the response we got for the first edition. We received 20 submissions for the first Manival. I hope it will continue to grow each week.
So if you're ready to put some hair on your chest, let's get started with the Manival.
Editor's Pick
The Growing Life presents The James Dean Guide to Being a Body Language Bad*ass. James Dean was a bad ass and he knew how to use his body language to show his cool confidence.
Fatherhood
Discovering Dad discusses the dos and don'ts of motivating dad. This post is directed to the moms. I know there's plenty of AoM readers who are moms. I hope you find this helpful.
Building Camelot shares his 5 biggest fears about being a dad.
Marriage and Relationships
Schafer's Blog urges men to be men and start making decisions in their relationships. My wife gets on to me for this all the time. I defer to her a lot thinking it's the gentlemanly thing to do, when in reality she would rather have me make more decisions more often.
Get Geek Strong shows men 7 ways to avoid adding housework for their spouses. Studies show that married men add a few hours of housework a week for their spouse. Help your wife out by following these tips.
Persistent Illusion writes a letter to the husbands of America telling them to man the hell up.
The Man Page presents The Unofficial Guide to Buying Your Wife a Gift. With Mother's Day just around the corner, this will come in real handy.
The Night Writer presents Oh, Those Three Little Words. This is a humorous take on marriage and the three word phrases every man should learn to say more often and the three word phrases every man should avoid saying to their spouse.
My Super Charged Life urges men to revive the lost art of chivalry. I couldn't agree more. In fact, I devoted a whole section to it in The Art of Manliness Guide to Being a Gentleman.
Dress and Grooming
Smple.se shares his experience of making his own Persian Moustache Wax. While it ended with a rash, I applaud this man for his ingenuity and for his awesome looking moustache. He kind of looks like the AoM logo.
The Care and Feeding of Man presents How to Wash Clothes 101. If you're a young man out on their own for the first time, this post can be extremely helpful. I still get in trouble whenever I do the laundry. I always end up ruining a piece of my wife's clothing.
4mind4body shows how a man can dress for success.
Money
Money Blue Book discuses the reinforcement of traditional gender stereotypes about money in television's latest trashy reality show, The Millionaire Matchmaker.
Mancations and Manertainment
Simple Marriage Project presents the Essential Rules of Traveling Light in Marriage. My wife and I love to travel. These tips will come in handy.
Man Tripping gives us a man-cationing guide for La Tomatina Festival in Spain.
Manning Up
A Good Husband tells us why UFC Fighter GSP is a true gentleman. A real man knows how to respect his opponent when he's grounding and pounding them.
Escaping Maryland shows us what the day in the life of a high school wrestler looks like. This post reminded me of my wrestling days. I forgot how grueling the schedule could be.
Ramoney urges men to take responsibility for their lives if they want to see change. Here at AoM, we believe taking personal responsibility for one's actions is an essential part of manning up.
Urban Monk introduces us to his man's manual of being manly and discusses what is and is not true manhood.
Manic Impressive shares a personal story of how a little gentlemanliness can separate the men from the boys.
Ergo Sum argues that there's too many guys; too few men. I agree.
Thanks for the great submissions! Tune in next Tuesday at A Good Husband for the Manival #2. If you have a post you would like to submit, please use the Manival submission form. All submissions are due on Monday by 4PM