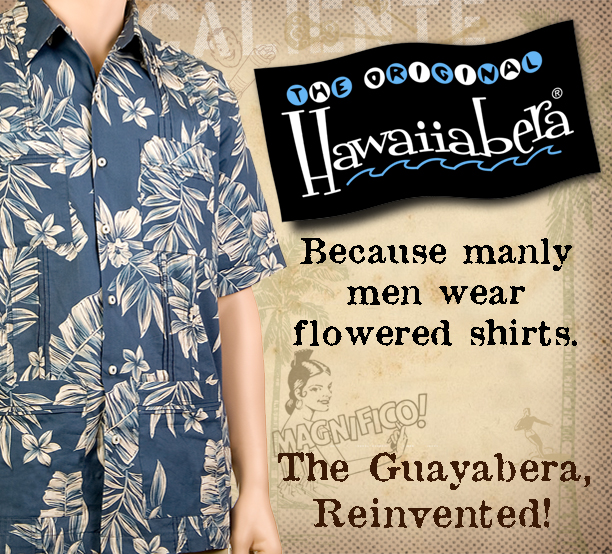 What do you get when you cross a Mexican Guayabera with a Hawaiian floral print shirt? You get The Original Hawaiiabera shirt. I've always been a big fan of Guayabera or "Old man Mexican barber shirts" as my friends and I call them. I've also enjoyed sporting a Hawaiian shirt every now and then. Both of them catch the vintage-something-my-grandpa-would-wear vibe that I enjoy so much.
So when a guy who calls himself "El Grande Kahuna" emails me and says he'd crossbred the two shirts to create the Hawaiiabera, my interest was piqued. El Grande Kahuna calls the Hawaiiabera the "Ultimate Friday Shirt." Each one is handmade and comfy, with cool, vintage Hawaiian floral prints and the functional four front pockets Guyaberas are famous for. It's the kind of shirt a man could wear while flipping burgers in the backyard.
El Grande Kahuna was kind enough to send me one. I got to say these things are pretty dang nice. It's well constructed, stylish, and comfy to boot. I told El Grande Kahuna that I thought a lot my readers would be interested in getting their hands on one of these bad boys.
El Grande Kahuana was happy to oblige.
The Contest
El Grand Kahuna is offering to give away three, count 'em three, of his $68 Original Hawaiiabera shirts away. Here's how you can get your hands on one of them:
Because the Hawaiiabera is the Ultimate Friday shirt, we want to hear what you do on the weekends. Do you catch up on chores? Watch football all day? Camp? Leave a comment on this post sharing your typical weekend activities and you'll be entered into a drawing for a shirt.
One entry per person.
Deadline to enter is Monday, October 6, 2008 at 10PM Central Standard Time.
We'll randomly select three comments and give a shirt to those three lucky individuals. We'll notify the winners so they can select what shirt they want from the shop.
But wait, there's more!
El Grande Kahuna is a generous guy. He's offering to give every participant a 40% discount on the purchase of Hawaiiabera. At the end of the contest, I'll email all the participants a code that can be used in the Hawaiiabera store. So even if you don't walk away with the free shirt, you can still get a hefty discount on the purchase of one of your own.
I'm looking forward to your comments!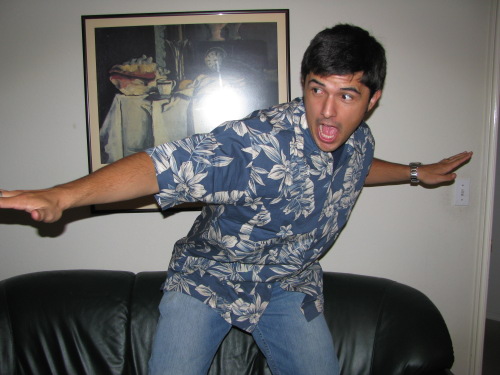 The Editor of AoM "couch surfing" in his Hawaiiabera. Get it? Couch surfing?
Man, that was lame.
The contest is closed. Thanks for participating.