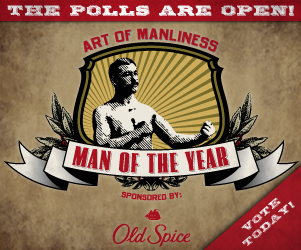 We are excited to announce the 10 finalists for the 2008 Art of Manliness Man of the Year Award Sponsored by Old Spice. We received over 120 fantastic nominations. It was agonizingly difficult to pare down the many worthy nominees to just 10. All of the men nominated represented the best in manliness. It was touching and inspiring to read the stories behind these great men. The entries were judged by both the qualities of the men in question, and the essay's ability to engagingly convey the nominee's virtues. With the help from the folks at Old Spice, we picked what we think are the best of the best.
The goal of The Art of Manliness Man of the Year Award is to honor ordinary men who represent paragons of manliness. We weren't looking for celebrities. Those guys get enough attention and accolades already. We're looking for a man's man; guys who work hard, support their family,  and give back to their community without expecting to be rewarded for their efforts. The AoM Man of the Year takes on responsibility willingly; he doesn't shirk from it. He's has a confident swagger without being a blowhard. He's proficient in the manly arts. He does the right thing, even when it's not convenient. He's loyal to his friends and family.
How to Vote
Visit the official voting page to see the list and pics of the nominees. From there you can read about each man and why they should be the 2008 Art of Manliness Man of the Year. Voting polls can be found in the sidebar, the official voting page, and on each finalist's bio page.
Voting is open until December 14, 2008 at 11:59PM. The man with the most votes will be named the 2008 Art of Manliness Man of the Year and will receive $2,000 in cash and a manly gift basket of Old Spice Products. The runners up will receive prizes of Old Spice products.
Vote today! After you do, make sure to tell your friends and family to vote, too. May the best man win!