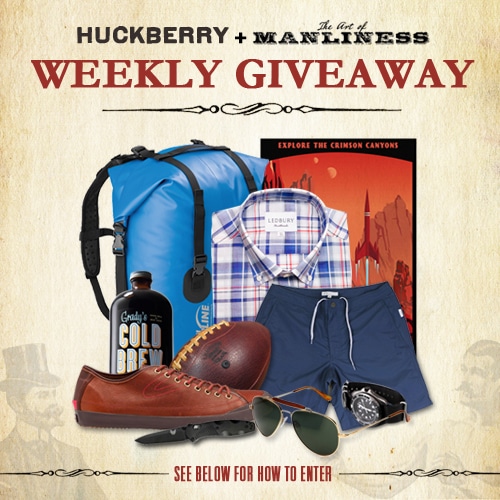 The winner of our last giveaway (two weeks ago) was:
Marc L. of Salem, NH. Marc chose the handsome hickory and walnut coffee drip stand from Meriwether.
My Picks This Week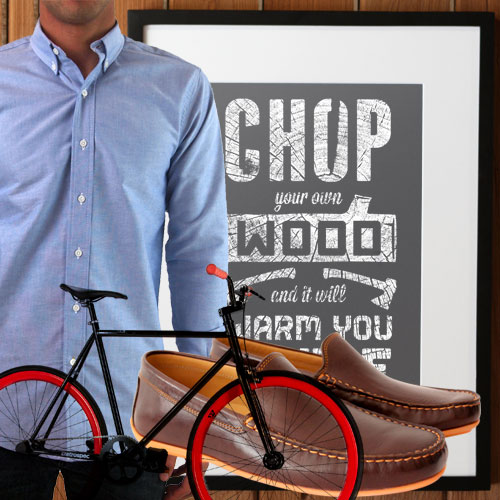 Another awesome week at Huckberry. At the front of the pack for me are the Austin Heller driving shoes — in suede and leather they're versatile enough to go from work to play. Then there are the Made in America duds from Lumina. I'm going to pick up both a shirt and some trousers myself. I feel like those trousers are a staple that have been missing from my wardrobe, but I haven't yet found a pair that fit my massive thighs. These were designed by another ample-thighed gent, and aren't supposed to be too tight, so I have my fingers crossed. They've got some nice ties too. Gotta love that Huckberry discount — I don't know where else you can find Made in America ties for that great of a price.
There are also some nice fixed gear bikes from Retrospec. I don't know if I'm hip enough to ride a fixie, but if I won one in a giveaway, I'd be willing to try. I also really like the "Chop Wood" posters; one of my favorite manly axioms. There's a post idea right there…best manly axioms….
The Prize
Any item currently available in the Huckberry Store. Be sure to check out the current line-up of items as it changes every week.
How to Enter
Leave a comment sharing what you'd like to win.
Sign up for Huckberry to gain access to their  store. You have to sign up because the store and the discounted prices are not available to the public. Just so we're clear, if you sign up for Huckberry, you're opting into receiving weekly emails from Huckberry on their exclusive deals. You can unsubscribe anytime you want.
Take a look around, pick one item you'd like, and leave a comment on this post sharing your selection.
Do not make multiple comments. All comments are moderated, so your comment will not show up instantly, but will show up later once it's approved.
If you are an email subscriber, do not reply to this email to make your entry. You must click on the title of this post, which will take you to the post on our web page. You must make your comment on the post on our web page to be entered.
Deadline to enter is April 18, 2013 at 5PM CDT.
We'll then draw one random comment to select the winner. This lucky gent will get the item they selected and shared in the comments. Good luck!