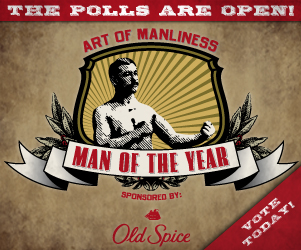 The finalists have been selected and now it's up to YOU to decide who will the be 2008 Art of Manliness Man of the Year. While the winner won't be a spokesman for Old Spice, they will receive receive $2,000 in cash and a manly gift basket of assorted Old Spice products. Each of the ten finalists will receive Old Spice products as well.
We'd also like to remind our readers and all visitors to the site that The Art of Manliness is for ALL men. Our readers have diverse backgrounds and we welcome that on the site. The nominees for the Man of the Year represent the diversity of men who read the site. It is however important to note they do not necessarily represent the beliefs or views of The Art of Manliness or Old Spice.
The finalists were selected according to the following criteria:
Looks out for and is loyal to his friends and family.
Does the right thing, even when it's not convenient.
Is proficient in the manly arts.
Serves and gives back to his community.
Sacrifices for the good of others.
Works hard and never complains.
Has a confident swagger, but isn't a pompous jerk.
Has a sense of humor but doesn't cut people down.
Embraces instead of shirks responsibility
It was not possible, or even desirable to quiz each candidate about their political, religious, and social views. While we selected the finalists, the winner will be determined by you, the reader. If you don't support a particular candidate's message, you should vote for those you do believe in and spread the word about that candidate. The contest is not about who AoM or Old Spice believes should be the winner, but who the public determines should be the 2008 Man of the Year.
Voting is open until December 14, so vote today!
[polldaddy poll="1133542″]
The Finalists
Click on the image of the finalist to read their bio and their story of manliness.