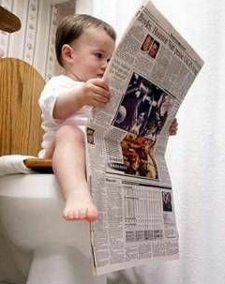 There's nothing quite like the uninterrupted solitude of reading in the bathroom. I'm sure if you go into most men's bathrooms in their homes, you'll find a stack of Popular Mechanics or maybe a book or two next to the john. Believe it or not, reading in the bathroom is a manly tradition that dates back to ancient Rome. Some Roman baths contained libraries so you could leisurely peruse a scroll while you took care of business. Saint Gregory Palamas, a monk who lived in the 12th Century, recommended the toilet of medieval fortresses as the best place to get some reading done.
Since then, the manly tradition of bathroom reading has been passed down through the generations. JFK supposedly put the finishing touches on his inauguration speech in the bathroom and W.C. Fields considered the bathroom his personal library. Today, millions of men across the world take part in this ritual.
To recognize this manly tradition, June has been declared National Bathroom Reading Month. I'm not exactly sure what that means, but I'm down with dedicating an entire month to bathroom reading.
While there's nothing like rolling up a magazine while you're taking care of business, how would you like to upgrade your bathroom reading with an Amazon Kindle? Interested? Read on.
The Prize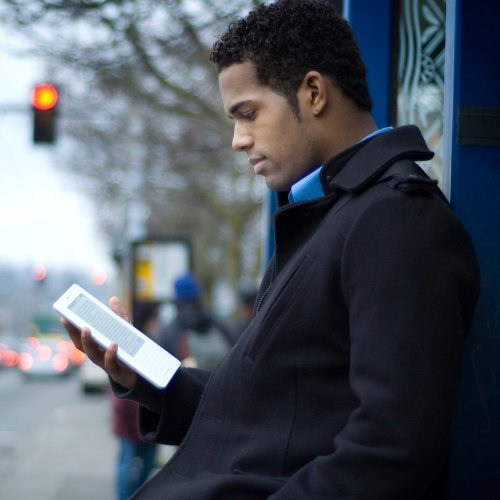 An Amazon Kindle. I'm sure you've heard of it. It's Amazon's wireless eBook reader. It's slim, lightweight, and you can download newspapers, magazines, and and up to 1,500 books. It's the perfect bathroom reading accessory. I'm sure your wife or significant other will appreciate how uncluttered the toilet area will become as you move all your favorite reads to the Kindle. With the Kindle, you can even read the Art of Manliness from the pot. You can't get much manlier than that.

The Kindle retails at $359. That's a quite a chunk of change. How nice would it be to get one for free?

The Contest
The fine gentlemen at The Toilet Paper are offering a FREE Amazon Kindle to one lucky AoM reader in honor of National Bathroom Reading Month. To enter, all you have to do is sign up for their free daily newsletter. That's it! They will record every new signup from the AoM readership and select a winner once the sweepstakes is over!
The Toilet Paper calls themselves "Daily News for the Thinking Man." Their newsletter is the perfect bathroom reading material. Each day, the editors take a current news story and give you the back story on it with interesting tidbits, quotes, and statistics in an easy to read format. Just print it off and take it with you when you're doing your thing. When you're done, your brain canister will be filled with some nifty facts and trivia that you can bring up around the water cooler and throughout the day.

Deadline to enter is June 30, 2009. So you have the rest of the month to enter. What are you waiting for? Do it!

And while we're on the topic of bathroom reading, what do you like to read while you're on the john? Let us know in the comments below.